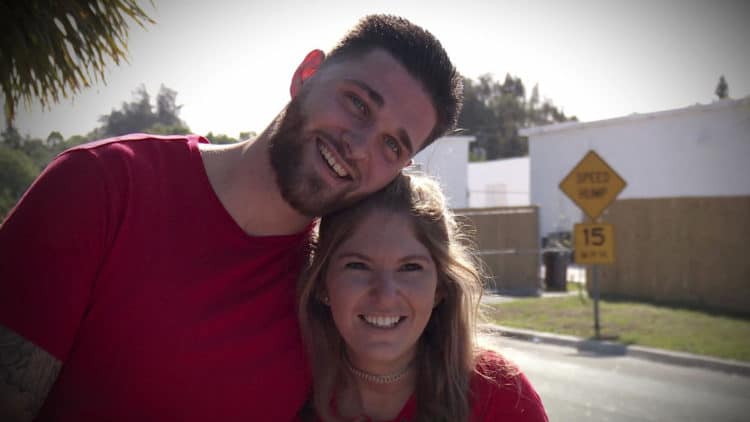 Some television shows exist for the sole purpose of educating people about something they may not have known about previously and others seem to exist for the purpose of making one question their very sanity. To be honest, most things fall somewhere in the middle, as people are typically looking for something that will provide a mix of both education and entertainment. Sometimes, even the most serious of individuals is in the mood for something that can be mindlessly watched and in those times, it seems appropriate to turn to something that is designed to provide some form of entertainment and nothing more.
One such television show is called Love After Lockup. Just as the name implies, it's about people that supposedly fall in love after being released from prison. The cameras then follow them after that individual has been released in order to see whether or not they decide to stick it out in a relationship or go their separate ways. The entire basis of the show sounds a little bit sketchy, to say the least. Nevertheless, if you're looking for something where you can simply zone out and not pay all that much attention without really missing anything, this might be the perfect fit.
So far, it's made it for two seasons (sort of) so you know that at least a few people are watching. Right now, the second season is airing on WE TV and consists of eight episodes. It's almost funny when you go and look at some of the things that people who have supposedly watched the show have to say about it. One individual made the statement that the show wasn't designed to be that good to begin with, so anyone that was making fun of it not being very good was the one who had issues, or something to that effect. Still another had made the statement that it seemed as though every episode was really nothing more than a carbon copy of the episode prior to it, only with different people involved. This would probably make sense but it also causes one to ask the question, if the show is basically designed to be less than spectacular and it seems like they're simply reliving the same episode over and over again, why does anyone keep watching?
In short, the answer has a lot to do with human nature at its very core, which is often quite raw. As a general rule, people have a tendency to enjoy things that have a lot of drama in them. That's one of the reasons that these reality television shows have been so successful in the first place. Maybe these individuals aren't getting enough drama in their daily lives, but for some reason, they feel the need to spend their hours watching something that may or may not have a shred of truth to it. Whatever the case may be, these shows certainly don't hold back when it comes to the drama. At the moment, that just seems to be the way of things.
It's true, this show seems like it has absolutely no substance to it whatsoever. However, that would be because most people only think about what they see on the surface. The truth is, there's actually a bit more to the show than meets the eye, especially at first glance. As previously mentioned, the show is now in its second season but that might seem a bit misleading. The first season actually went by a different name, Life After Lockup. It followed the lives of five different individuals after they have been released from prison. Basically, the cameras followed them everywhere they went in their daily lives and documented everything about what it was like to be in prison and then try to put one's life back together, piece by complicated piece. It's not easy, there's no doubt about that. That first season drove that point home repeatedly, highlighting the difficulty that these five individuals experienced in everything from finding a job, to getting a place to live, to finding love. Perhaps most difficult was their search for peace and happiness in a world that seems to be determined to set out against them for the things that they've been convicted of in the past.
This second season, Love After Lockup, continues to follow the same five individuals, only this time the focus is on them trying to find a serious relationship. Perhaps that's why some people feel like it's the same episode playing over and over again. After all, the individuals have experienced similar things in life and they're likely to experience similar challenges, even today. Since the current season focuses on their challenges in finding love, it's not all that unrealistic that many of them have stories that are quite similar in nature.
Whatever the case might be, this is a show that some people actually like quite well. Like other reality television shows, the majority of the audience watches it because they want to see the drama, not to mention the yelling and screaming which often come with it. This show is sort of like watching what might be considered the love child of The Jerry Springer Show and an episode of Cops. If that sounds like something that interests you, go ahead and knock yourself out. Enjoy binge watching the show until you can't stand it any longer. If that's not really your cup of tea, then you don't have to worry about it because when it all comes down to it, you have the power to decide whether or not to watch something for yourself.
Will these individuals eventually find love and in the process, find happiness? That is a question that remains yet to be answered. One thing is certain, while they're searching for love they're finding plenty of drama in the process.