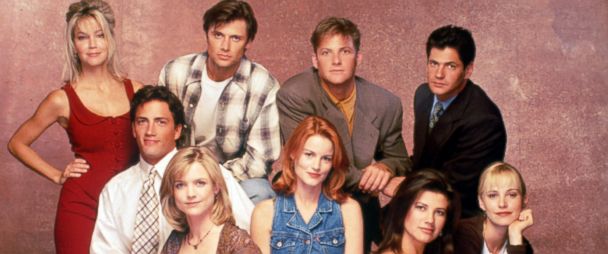 Melrose Place is a familiar name to fans who enjoyed the popular soap opera from the summer of 1992 through the spring of 1999. It was popular enough to air for a full seven seasons before ending. The series appealed to all ages, but particularly to a younger generation with a fascination for the West Hollywood, California scene. The show appeared producer Aaron Spelling's second television series falling under the "Beverly Hills 90210" franchise, and the series was so well-loved by a former generation that it is now considered to be a classic. There has recently been some talk of a possible reboot of the popular series, and here is what we know about it so far.
The source of the rumor
When it comes to Hollywood and the possibility of reboots, rumors fly on a continual basis, and while the majority of them are just wishful thinking for fans as well as the actors involved, some of the musings actually make it to filming. Daphne Zuniga has recently made an observation that leads us to believe that we may once again see the group back together. Zuniga recently spoke about the show making a comeback in an interview with Entertainment Tonight, and she shared that it's something that is currently under consideration. This doesn't mean that it's a definite yet but they 're looking into how they could put a new twist on the show while using the original cast members. At least she is open to the idea and from what Zuniga had to say about it, she's already spoken with other former cast members and it's something that is definitely a possibility.
Achieving success again
Whenever you create a reboot, there are special considerations to be made. While fans of the original series may be on board, there are also new demographics to consider, along with what potential viewers want to see in a television series. Some changes are necessary to make it fresh, new and appealing to a different audience, so there would be a lot of work involved in the planning of what would basically be a new show or a continuation of a series that was last aired 20 years ago. Two decades is a long gap, but there are fans who support the notion of bringing it back. Perhaps the greatest question that producers are mulling over at this point is would the show gain support by a large enough fan base for sustainability?
Former cast members
"Melrose Place" was set in the West Hollywood city at 4616 Melrose Place and it followed the lives of several young people who lived in the apartments there. The format was tweaked a few times and while it began as individual stories which were told in an episode, it didn't catch on as well as producers had hoped in the first season, so they revamped the storylines to spread out over several episodes which turned the series into a soap opera, which was much more popular and really gave the show a boost in its ratings. The eight main characters were played by Thomas Calabro who played a kindly physician who transformed into a villainous type, his wife Jane played by Josie Bissett, who had her own career to tend to, Andrew Shue's Billy Campbell, Courtney Thorne-Smith's Alison Parker, Grant Show playing Jake Hanson, Doug Savant as Matt Fielding, Vanessa Williams as Rhonda Blair, Amy Locane as Sandy Harling and Daphne Zuniga appearing as Jo Reynolds. There were several guest stars on the series including Heather Locklear, Laura Leighton, Marcia Cross, Janet Carroll, and Beata Pozniak. Through its run, several more cast members were added to the series including Alyssa Milano, Jamie Luner, David Charvet, Rob Estes, Lisa Rinna, and several others. You had to watch the show consistently to stay on top of all of the changes. Zuniga's character departed after 1996, and was not seen in the series for the last three seasons.
Why the renewed interest in "Melrose Place"?
The main reason that sparked a new interest in rebooting "Melrose Place" was the incredibly positive response that the reboot of "Beverly Hills 90120" received in just two episodes. Those who remember the 1990s, when both shows were immensely popular can tell you that the two seemed to go hand in hand and many of the same viewers who watched one of the shows, also watched the other. This got producers thinking about the possibility of bringing "Melrose Place" back in unison with "Beverly Hills 90120." If it worked two decades ago, it may work out just as well again, particularly since there are former fans of the series who are begging them to bring it back.
Final thoughts
Americans love their nostalgia, particularly when it takes them down memory lane to good times. Although times have changed, there are still fans who have fond memories of their favorite television shows and they're excited at the prospect of revisiting the old days. Although a reboot would likely have some pronounced differences, it might be interesting to see what the writers could do to show where the characters are 20 years later in their lives. There hasn't been anything definite decided yet but as the old saying goes, where there's smoke, there's also fire, and the rumors have been flying about bringing back "Melrose Place" for a new run in a reboot of the original series. There has been no confirmation one way or the other, but we do know that producers are at least talking about it and Daphne Zuniga seemed to have a positive reaction when asked about the likelihood of seeing the reboot in the near future. We'll have to keep an ear to the ground until more information is forthcoming. We're pretty sure that Daphne was dropping some pretty strong hints that we might see the show again.