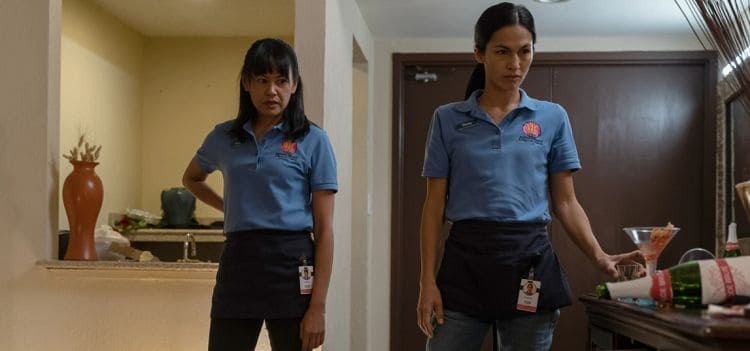 In The Cleaning Lady Season 1, Episode 7, Thony's marriage problems are amplified when Marco gambles away the money set aside for Luca's surgery. The Feds have tracked down the location of Arman's guns, which means he can't do the deal. Without the deal, Luca doesn't get his transplant, Arman and Nadia don't have enough money to get away from Hayak. Thony finally gets a little bit of good news on The Cleaning Lady Season 1, Episode 8. It turns out that when Marco was up $100,000 before he completely tanked, he saved a $25,000 coin. Fiona tried to plead Marco's case, but Thony wasn't trying to hear it. No one understood how bad his addiction affected their family in the Philippines. They lost everything they had, including their friends, because Marco had borrowed money from them and never paid it back. Thony shouldn't have to take care of her husband, especially since she already has a full plate taking care of Luca.
Arman and Thony devise a plan to fly into Mexico on his private plane, giving him the perfect opportunity to get the gun deal done without the Feds ever knowing. Arman did a great job helping handle Luca. When he was scared to leave his father behind, Arman convinced him that it would be fun to go in his spaceship, aka the airplane. The medical resort in Mexico was beautiful and so luxurious that it felt like Thony and Arman were on vacation for a moment. Thony's life had become so consumed with getting help for Luca that it had been so long since she was able to rest and take some time for herself.
While relaxing at the bonfire, Thony reveals that the Philippines no longer feels like a home. Luca's health was why she came to the United States, and even now that he's finally getting this life-changing treatment, Thony can't picture herself going back. In a way, Thony has admitted that her marriage is over. Arman asks Thony to dance to a Mexican song. Their sultry dance leads to their second kiss. It's full of passion, and their chemistry is undeniable. Before things can go any further, Thony pulls away and goes back inside. While Arman is in Mexico brokering the gun deal, Nadia stays behind to help manage the club in his absence. He told her to tell Arman that his aunt died if he came looking for him. Of course. Nadia played her part beautifully. But when Garrett stopped by and met with Nadia under the guise of wanting to join their exclusive club, he dropped a bombshell. He informed Nadia that Arman was really in Mexico with Thony.
Nadia gave an excellent poker face. When Garrett left, she broke down, fearing that Arman wasn't focused on actually preparing for their future but instead galavanting with Thony in Mexico. Hayak popped back up later to reveal that he knew that Nadia and Arman lied to him to make matters worse. It turns out that Hayak called Arman's dad to give his condolences only to find out that his aunt was alive and celebrating her birthday. Arman should have come up with a better cover story knowing that Hayak had personal ties with his dad. When Arman got the news, he had to leave Thony, Luca, and the donor in Mexico briefly to take care of the problem he created at home. He promised to come back for them after the surgery.
Now that Nadia knew Arman was in Mexico with Thony, she told Hayak that she discovered he ran off to Mexico to have an affair with the cleaning lady. It helped that she actually thought it might be true. When Arman got back home, he admitted to the affair in front of Hayak, who was disappointed but didn't think it was his business to get involved in their marital problems. The affair story was able to get Hayak off their back for a minute. But the mobster sensed it was more to the story. He had his men beat up Carlos, Arman's right-hand man. When he threatened to put Nadia in the chair, Carlos told Hayak the truth about the guns. Because Carlos's loyalty was to Arman instead of him, he shoots him right in the head.
In Mexico, Thony loses it when the surgeon attempts to bump Luca's surgery when a wealthier patient pays more money to get surgery that day. The surgeon promised Luca would still get his transplant; they just had to wait. But Thony was tired of waiting, and she wasn't taking no for an answer. She goes full-on gangsta by threatening the surgeon, promising that the man she came with worked for powerful people that would handle him if he didn't do the surgery right away, considering that they had already paid him. Thony gives Luca cough syrup to make him go to sleep and rigs the vitals machine to make it seem like he's going into septic shock. The surgeon has no choice but to operate on Luca immediately but needs Thony's help since the hospital is short-staffed. Thony performs Luca's transplant with precision. A couple of days later, when she calls Arman to tell him the good news, she hears a bomb go off in the background, and the line disconnects.