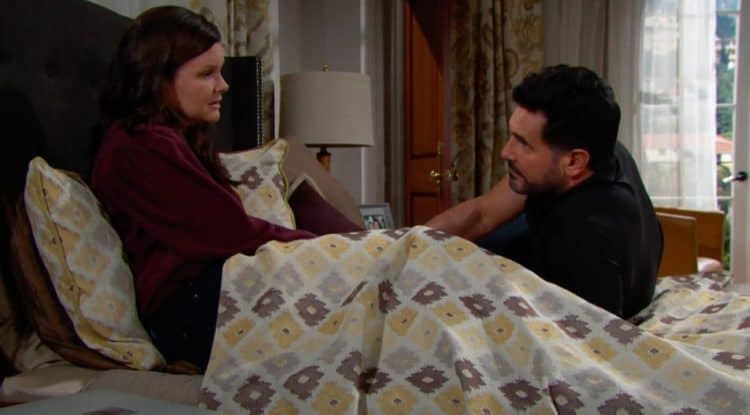 Bold and the Beautiful fans aren't sure how to feel going into this week. We are still a little bit taken aback by how much this baby story line is continuing to affect everyone, and it feels almost like so many things happened last week even though it also feels like nothing happened. Brooke and Ridge made some promises to one another, and we all know that they cannot keep those. He cannot keep those promises to her, and he's already breaking them by lying. He thinks he went to bed with Shauna while he was drunk because she happened across him and was able to manipulate the situation to make it appear he did just that. Now she has feelings for him, he's working things out with his wife, and her daughter is a mess. Flo thinks she deserves forgiveness, and Quinn is still working so hard on Sally and her feelings for Wyatt.
What happened here? Why can't she get over this after what she just did to her own son setting him up and encouraging him to be with Flo? She's done some horrible things, and she's worried about Sally and what she might be like as a daughter-in-law? Can we say get over it now QUINN? We aren't fans of this story. Meanwhile, Katie needs Bill's support as she struggles with a few things in her life, and he's there for her. He's there for her to the point that he is leaving his own work behind to show her how much he cares for her, but he was helping his ex — her sister — with a few things, too, and that won't go over well should anyone find out about that. We can't see things ending well for Katie and Bill, but that's always the case for them.
What's Happening on Bold and the Beautiful
https://twitter.com/BandB_CBS/status/1174790265002807299?ref_src=twsrc%5Etfw
We aren't sure there is anyone more adorable.
What's Next on Bold and the Beautiful
Risk takers, heartbreakers, and home-wreckers – it's all coming up this week on #BoldandBeautiful! pic.twitter.com/rX1bitRHxv

— Bold & The Beautiful (@BandB_CBS) September 15, 2019
Things are taking a serious turn for Wyatt as he decides to propose to someone. He has to make a choice, and he has to choose between Flo and Sally. We don't get why he feels he has a choice to make when Flo is clearly a terrible person who did horrible things to him and his family. So, he will choose Sally, and he will propose to her. We do have a feeling she will say yes, and we love that. But, we can tell you with some serious certainty that there will be one person around here who does not like that, who doesn't support that, and who doesn't want to see that happen for anyone, anytime, ever. You guessed it; Quinn doesn't want to see anything with Sally happening in her life.
She's someone who wants her boy to marry Flo. She does not care what the young woman did to anyone, and she's not sure she even understand why her son cares. She doesn't really care for Hope or Liam or Steffy or anyone in the Forrester family other than her husband. She's especially not fond of the Logan sisters, so she feels no bond or good things for them at all. We just don't get her, though. She has too much invested in the happiness of her son. We get it. We get wanting to see him happy and wanting to see him making good life choices, but we do not get why this is a thing that should matter to anyone at any point, ever. We are confused.
Stay tuned for more The Bold and the Beautiful and be sure to check out TVOvermind daily for the latest The Bold and the Beautiful spoilers, news, and updates.