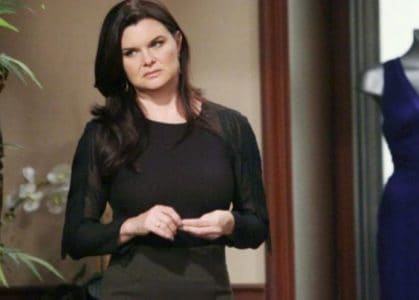 The Bold and the Beautiful spoilers this week are juicy. Everyone is in a good mood and spirits are high as weddings are planned and trips are prepared for. Everyone seems concerned about what to wear to the wedding, how their trip to Australia will go, and how they will handle the things that are coming their way. Steffy and Liam are in a good place following their lovely wedding shower that was thrown for them in a surprise setting. They realize how much they are loved, and Steffy seems to be moving on from her issues with Sally. Sally did a good job making Steffy look really bad in front of a lot of people on more than one occasion, but she's going to rise above and work on herself leaving Sally out of her life.
Sally is working hard to get secrets from the Forrester clan so she can work her own business magic by stealing theirs. She's using her unsuspecting sister as her in into the family, and she's feeling a little bad about it. She's not feeling that bad about it, though, and she's happy she's got some inside information. She doesn't seem to care she's hurting her sister at all. She's going to continue to use them and work on getting what she wants, which is going to make people very angry at some point.
Katie is working very hard to get rid of her nagging feeling that there's something not right between Quinn and Ridge. Will she go to Brooke with her suspicions? So many people are now in the know about these two, and they haven't done anything about it. Ridge and Quinn are working on borrowed time right now, because Charlie is working hard to convince Pam there's something going on, Ivy knows, and now Katie has a feeling there's something going on. She's not someone who can mind her own business, either. Especially since she has feelings for Quinn's husband and she hates Quinn — it's going to be a good week this week, and we can't wait to see it unfold.