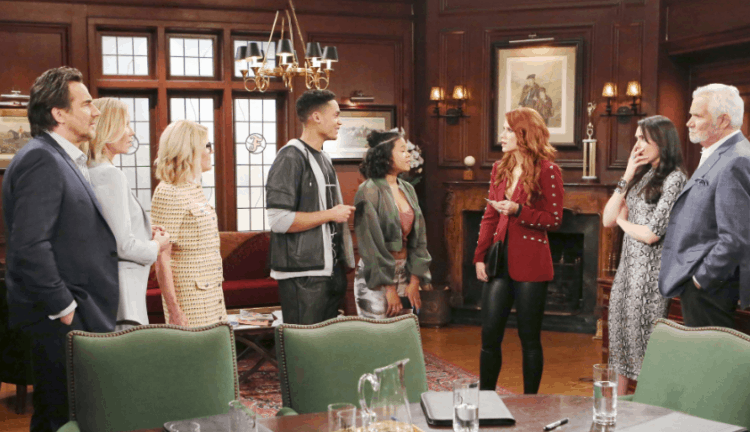 The Bold and the Beautiful fans are not surprised that Quinn was so welcoming to Flo. She likes Flo, and Flo is not Sally. Quinn has a problem with virtually everyone in the world, and Sally is not someone whom she loves the most. She's been slightly tolerant of her in the past few months since her son asked her nicely, but we can see that Quinn sees nothing short of an opportunity with Flo there. She wants to see her son go back to his high school flame that he had to leave in the middle of the night to escape with his mother. She'd love nothing more than for him to leave Sally behind and move on, but he has no intention of doing anything of the sort. He is in love with her, and his mother needs to get herself out of his relationships and move on.
Meanwhile, we also got to see the offer Ridge made to Sally. He wants to see her stay on at his company rather than leave after he saw her line of athletic wear. It's more than just good, and he is very interested in having her work for him rather than leave. What he offered her was more than fair and good, and she'd be stupid to walk away from it and all the guarantees it gives to her. But, she has a line and she wants to make it her own. And sometimes you have to go with the unknown and what scares you more than you have to go with things that you do know. What will she do? She will, we know this, talk to Wyatt about it before she makes any decisions, but we have a feeling that this will become a fight.
What's Happening on Bold and the Beautiful
https://twitter.com/carolcat17/status/1110600531775508483?ref_src=twsrc%5Etfw
Why does she insist on setting herself up for failure like this?
What's Next on Bold and the Beautiful
If you take a gamble, you could risk it all. 💥 AND don't mess with another woman's man! See what happens this week on #BoldandBeautiful. pic.twitter.com/0jKbfY8pvf

— Bold & The Beautiful (@BandB_CBS) March 24, 2019
Wyatt is not playing games when it comes to his mother's behavior, and he is making her apologize to Sally for her insensitive comments and the not very nice things that she did and said. And we are all about it. We are all on board with his actions and his desire to make her do this, and we cannot be more excited that he is making his move to stand up to her so much lately. She's spent years in the middle of all of his relationships causing him more harm than good, and it's about time that he makes a practice of telling her that he expects more from her. And hopefully, she will listen to her son for once. She might know what is best for him, but she might not know what is best for him, either. She needs to let that go. Will Sally accept her apology?
Additionally, we are going to see Sally take her man by surprise when she tells him about the offer that Ridge made to her. She wants to believe that he is there for her to make the most of her situation, and she wants to know that Wyatt will stand by her no matter what she decides. However, he went out of his way to go against his father to find her this position, and he might not be all that pleased that she's that happy to bail on it before it even has a chance to get off the ground. Will he be all right with this, or will this cause the beginning of the problems?
Stay tuned for more The Bold and the Beautiful and be sure to check out TVOvermind daily for the latest The Bold and the Beautiful spoilers, news, and updates.