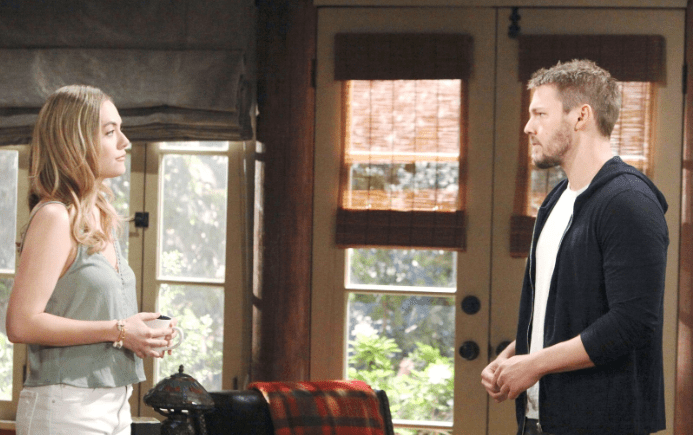 The Bold and the Beautiful fans knew that Liam would tell Hope what happened with him and with Steffy. He's making it a point not to lie to her anymore, and he doesn't owe her anything. But, the fact that he was willing to share this means that he is making things right with her, though she might not feel that way. She might not feel that what happened is something he should have done, but she did annul her marriage to him and end things. He's free to do what he pleases, and that is a thing that he wants to do only if he can be honest throughout. There may be some people, however, who disagree with this. They might not feel tha the should tell her this, because it clearly only hurts her. But, this was her doing. She chose to leave him behind, and she cannot ask him to have any other feelings for her in return if she wanted to act as if their marriage never even happened.
However, we also know that Steffy is not happy with her own brother. She suspects that he has something going on that he might be dealing with, and she's not entirely amused by any of that. She's a smart woman, and she might suspect that he is going out of his own way to make sure that things work out the way he wants them to with Hope, and she might suspect he had something to do with the night she and Liam just had together. She is not happy, and she did confront him about things, and he's not all that worried about her feelings. He's got a plan, and he's got things going on, and he's not all that worried about her or her life.
What's Happening on the Bold and the Beautiful
Could you see these three as a happy #BoldandBeautiful family? pic.twitter.com/o6Z0grd0ab

— Bold & The Beautiful (@BandB_CBS) July 2, 2019
We don't like what Thomas is doing to Hope and his own son, but we do kind of like seeing them together like this.
What's Next on the Bold and the Beautiful
https://twitter.com/BandB_CBS/status/1145331154452545536?ref_src=twsrc%5Etfw
Thomas is working his son to get what he wants in life, and we are not having that. He is coaching his son, trying to get him to do what he wants him to do, which is to make sure he is able to propose to Hope. He wants to marry her. He wants to spend his life with her. He wants to make her his wife and he wants to do it before she finds out anything that might make her feel as if she didn't get to live her own life in the process. But, what happens when that all unfolds and backfires on him? What happens when he realizes that this is not going to work in his favor, and that there is nothing he can do to make this work? He has to figure this out, but she's not in the market to make a new husband of her own happen. However, after hearing from Liam that he spend the night with someone else, we also think that she might be more open to it at this point.
Meanwhile, we do hope that there might be more to this story. For one, we hope that there is something that might happen when Steffy and Liam get together. He's remembering how he spent the Fourth of July last year with Hope, and he is not happy this year. She's going to try and make him feel better about it, and we wonder if that will cause them to have another moment.
Stay tuned for more The Bold and the Beautiful and be sure to check out TVOvermind daily for the latest The Bold and the Beautiful spoilers, news, and updates.