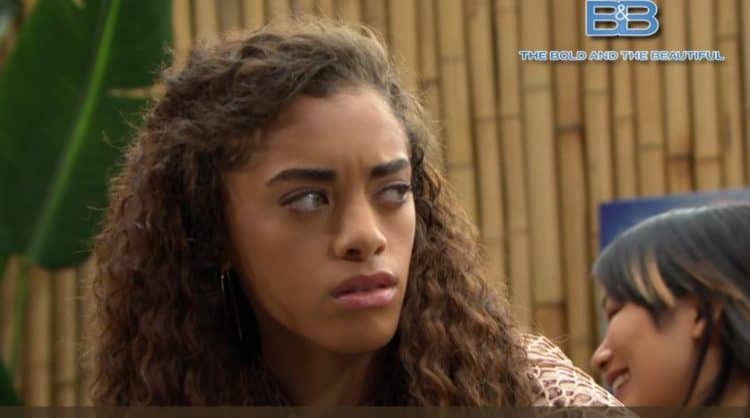 The Bold and the Beautiful fans are not letting a moment past in which we don't try to see what is going on with Hope and Steffy. We know that Hope is actually happy to be pregnant, though she's not entirely happy about the situation in which she is in. We watched as Steffy processed this news that her husband-to-be is also having a baby with his ex, and she's not thrilled. But she wants him for herself, she wants to marry him again, and she wants their newborn daughter to have them as a family. She's not all that worried about this new baby in any way other than considering it a very major inconvenience. And she's told Hope just as much. She wants this woman to know that she cannot come near her family, her baby, or the man she's marrying. She wants her to know she needs to stay away, she needs to get her life in order, and she needs to get over herself.
Hope, of course, isn't happy about this. She wants to be with Liam and have a baby with him and have a little family, but her mother is also encouraging her to fight for what she wants and get it all in her life. Brooke told her to get Liam, make him hers, and basically forget all about Steffy and baby Kelly. That's not something we think is good advice, and we think that Brooke should recognize that Hope and Liam do not belong together because Steffy will always be a problem in their lives. We are also slightly confused that both of these women are totally fine fighting for a man who can't decide who he wants. How about moving on to find a man who loves only them?
What's Happening on The Bold and the Beautiful
#BoldandBeautiful presents: Soap Opera Moms starring B&B's @NiaSioux and her mom @DanceMomHolly! pic.twitter.com/VmFm7Emdc5

— Bold & The Beautiful (@BandB_CBS) July 12, 2018
B&B fans love when the show does something a little special for them, so they're taking us inside the lives of the real moms of the B&B, and they're beginning with Nia Sioux. If you want to see her with her real mom, see how they interact, and get a little behind the scenes peek at how they all live and work together, now is your chance. Here is a moment for you to all see how this is going, what it looks like, and whether you'll be tuning back in for some of this goodness in the future.
What's Next on the Bold and the Beautiful
TODAY: Katie and Thorne level a serious accusation at Sally. #BoldandBeautiful pic.twitter.com/abQRcjrurm

— Bold & The Beautiful (@BandB_CBS) July 12, 2018
Wyatt is, for whatever reasons, visiting with Bill. These two don't get along, but they continue to spend time together even though Bill used his son to get what he wanted from him and make lives miserable. Whatever. That's not the point. The point is that they are together, and Wyatt is about to drop a bomb on Bill. Bill doesn't know, yet, that Liam got Hope pregnant when they were planning the wedding that didn't happen. Now he will take this information and use it to get what he wants. He'd only just given up hope that he would ever be with Steffy, and now it appears to him he might just have a chance after all. We don't think that he will lose this chance to see if he can make this situation work to his advantage and get Steffy for himself. It'll be interesting.
The other thing we are keeping our eye on is Emma and Xander. Zoe is going to do something drastic to either try and get him back or make him miserable, and we have a feeling that Emma is going to be some sort of collateral damage to her. That's not good news, but no one sees this coming right now. There's a lot going on that we can't predict, and we think that things will progress quickly with these two. We hear that Emma and Xander will share their very first kiss today, and it should make Zoe green with envy and upset. And she's not the kind you want to upset.
Stay tuned for more The Bold and the Beautiful and be sure to check out TVOvermind daily for the latest The Bold and the Beautiful spoilers, news, and updates.