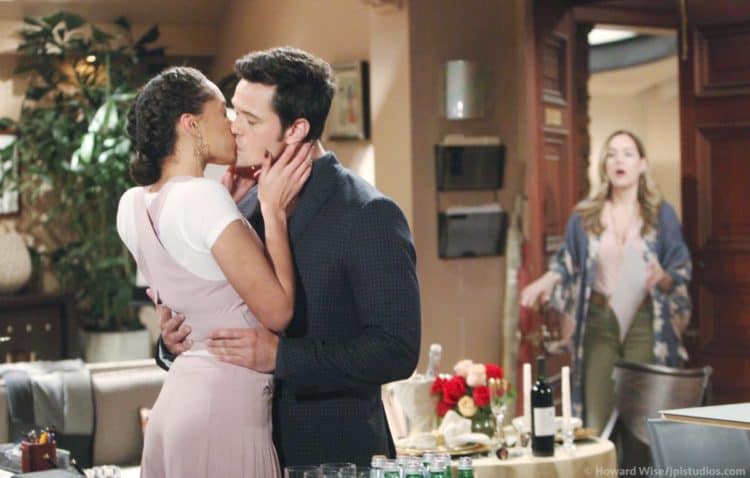 Bold and the Beautiful fans were a little surprised when Thomas decided that the family needed to spend some time together on Christmas Eve at the offices. He wanted a family meeting, and he called on. He spent that time making sure that everyone knew he had things to do and people to see, and he did things that he might not normally do. He is a young man who has a lot of issues, but he's working on making his life what he wants it to be. He's gotten them all together to talk to them, but we cannot decide how much of what he had to say to them and about them was honest and true and how much of it was nothing more than another string of lies that are going to stop him from becoming the person he wants to become. We will see, though.
Brooke had some words for Steffy, but she had to eat them. She was furious that she allowed Zoe to come back to the offices, and we are just sitting here wondering why she doesn't seem to remember that she is not a Forrester in any manner other than marriage. She is a married-in woman, and this is not her company. She has no say anymore. She's leaving the family. But, we do know that there is something we might expect, and that something is that she has some big issues to face. She has something to do in her life that is too much better, and that is allowing Zoe to make things right in her life by helping her out. Brooke couldn't say anything about that, and that is what worked out so well for her. She is happy now that Steffy mentioned that, so she's good.
What's Happening on Bold and the Beautiful
https://twitter.com/BandB_CBS/status/1207416337900769285?ref_src=twsrc%5Etfw
It is the day for exchanging gifts.
What's Next on Bold and the Beautiful
https://twitter.com/BandB_CBS/status/1208764127444963329?ref_src=twsrc%5Etfw
There's a lot happening right now, but the most important thing happening is the holiday that is today. We want to wish all of our favorite Bold and the Beautiful fans a very Merry Christmas, and we hope that you are enjoying the day with your friends and with your family. It's a beautiful day for that, but we also hope that you are going to spend more time this week focused on things that matter, like the fact that so many of you have so much to be thankful for. There is not a new episode of the show today, which is never a happy feeling, but that's because the people of LA are off spending the day with their own friends and family trying to make things better. There's so much good going on today, and we love that.
But, on the flip side of things, the show will be on, it's just not a new one. It's going to be an older show with a different story line, but you might still find some enjoyment in watching an older show. Otherwise, you will be pleased to know that tomorrow, the day after Christmas, will bring you a brand-new episode in which people will go back to making horrible decisions. They will make choices that don't work for them, they will continue to do the things that make us cringe, and we will all be back to our regularly scheduled entertainment — and that is all that matters. We hope you have a Merry Christmas, and that you enjoy this time with the people you love the most.
Stay tuned for more The Bold and the Beautiful and be sure to check out TVOvermind daily for the latest The Bold and the Beautiful spoilers, news, and updates.