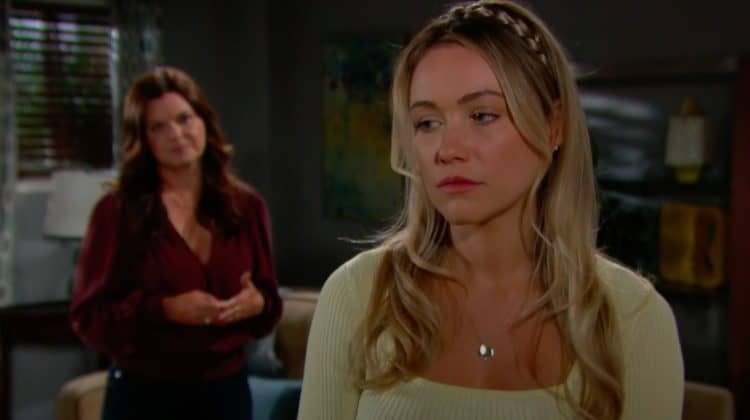 Bold and the Beautiful fans know that nothing happened with Ridge and Shauna. Shauna knows that nothing happened with her and Ridge. She knows that he had no idea he was coming with her, that he didn't know he was going to bed with her, and he had no intention of that. He was merely too drunk, and she kept making sure he stayed that way, to do this. She took advantage of him. She didn't sleep with him, but she certainly set it up so that it appears that she did. She wanted to get the most of this time with him, and she wants to use this to get what she wants in life. She has gotten to the point in her own life where she is struggling to find things to do in her life that are productive or happy in any manner, and we get that. But, we don't get what she's going to do with her time when it's given to her.
She is making a pact with him to keep this to themselves, but we all know that she will not do that. She will use this to her advantage as often as she can. She might use it to blackmail Ridge into doing what she wants him to do. She might use it to make sure that Brooke does what she wants her to do, too. But as long as he doesn't know the truth about this, there is nothing he can do but allow her to take advantage of him and the lives they are leading. Katie, on the other hand, is going out of her way to make sure Flo knows that her blood does not make her a Logan in her mind. She's making it clear she is no one to her family.
What's Happening on the Bold and the Beautiful
Ridge doesn't seem too mad at Shauna now. 😏 #BoldandBeautiful pic.twitter.com/bFzEKoVEmH

— Bold & The Beautiful (@BandB_CBS) September 16, 2019
She's a mess.
What's Next on the Bold and the Beautiful
Risk takers, heartbreakers, and home-wreckers – it's all coming up this week on #BoldandBeautiful! pic.twitter.com/rX1bitRHxv

— Bold & The Beautiful (@BandB_CBS) September 15, 2019
It turns out that Brooke and Ridge want their marriage to work despite their anger and their resentment and all the things that they do not agree on. We don't think for one second they will ever be able to focus on their marriage when they are always so focused on things like how they will get the best for their kids by hurting the children of their spouse, but whatever. That is neither here nor there right now. So, that leads us to believe that there might be more to this. There might be more to the fact that they are focused on things outside of their own realm of understanding. We aren't sure we or they can support anything in their situation for more than a minute, but they are both putting in the effort. They will make up, make it work, and he will lie to her about Shauna.
Well, he won't lie because nothing happened when he spent the night with her. He didn't now where he was or how he got there when she managed to get him home, and nothing happened despite her desire to make it look as if things did happen. On the other hand, Flo is going to lose her mind when her mother tells her that she has developed some feelings for Ridge and that she's looking to see if she can work things out with him in some manner of speaking. There is nothing she can do make this feel right.
Stay tuned for more The Bold and the Beautiful and be sure to check out TVOvermind daily for the latest The Bold and the Beautiful spoilers, news, and updates.