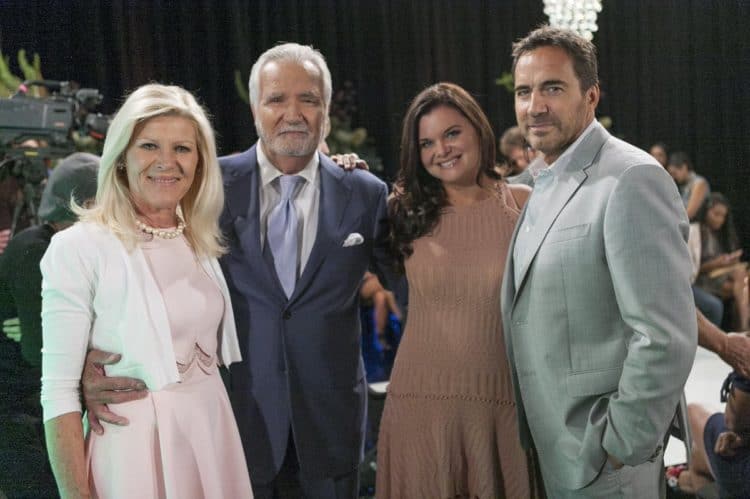 Bold and the Beautiful fans are sad right now because we have been so long without anything new, we have no idea when filming will be allowed again, and we don't know what happened to any of our favorite characters. We were left in a place where questions were more prominent that answers, and we don't know what to expect when the show comes back. When the last episode aired prior to the flashbacks being aired, we were left with Brooke finding Ridge in Vegas with Shauna — and boy did he and Shauna have a good time while they were away. We were left with a very upset Eric. He wasn't happy his wife did this to his son on a day that was meant to be a celebration. We were left with Katie having no clue what to do about her sister and her husband. And we were left with Dr. Escobar and Sally with an unconscious Flo on their hands. What does this mean? Well, we don't know, but we do have some thoughts about what might happen when we get to see more.
Bill and Katie
We hope that when the show returns, she asks him to take himself out of the picture of her family. We know she wants to be happy and have a family for their son, but she needs to respect herself more than that. It's our hope that they can do this amicably and for the boy, but we don't see it happening that way. Will she be happy that never officially wed this time around? We don't know, but we can expect some serious family drama for this couple.
Brooke Begs
We think that we are going to see a momentary new side of Brooke when she grovels, begs, and demands that her husband return home to her. We have a feeling that she is going to make a big deal of forgiving him for his indiscretions with Shauna and allow him to come home like she didn't just get outed for making out with her sister's husband at a family party in her own home the night she and her husband celebrated their renewed love for one another. We know Brooke well, and we know she will make this about her and not about anything else, but she will also make it look as if though she is being generous enough to do kind things for him — like letting him come home. And we hope that he says no, thank you.
Sally's Plan Falls Apart
It has to. She's not getting any kind of treatment, but she's also not dying. She's been fatally ill for some time now, and it's about time that illness takes her life. But, she's living happier and healthier than ever, right? So, she's going to find that it's not just Flo who is looking at her like maybe she's a liar who is not telling anyone the truth about her life and what she's been up to. So, this could be a thing. What is she going to have to do to get this to stop before it goes any further?
A Baby
We know that Zoe has to have a future ahead of her, right? So we have a feeling that she's going to come back into the picture with a new man, but she might also have a baby on board. We say this because it's a classic soap problem, and it would fit nicely into this little package. She has a new man, and a baby on the way, but she has no idea if new man is her baby's father or if Thomas is her baby's father. Would she hope that it was Thomas even though he treated her like trash and left her at the altar after embarrassing her like it was his job? Would she use this to try and get him to come back to LA and be with her? We do think that she would do something like this, and we would not put it past her to make sure this is what she's dealing with. We can only wait to see, though.