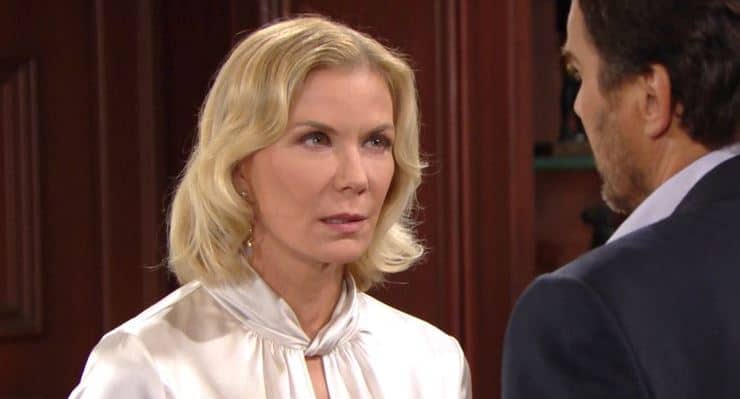 The Bold and the Beautiful fans are excited about this week. Bill paid a very unannounced visit to his ex-wife, and not the only who is Brooke. He's been spending plenty of time with her, but he spent the day visiting his other ex-wife, the one from whom he is trying to take custody of their son. He showed up very unannounced at Katie's and wanted to have some words with her. He doesn't really want to have custody of his son, but he also doesn't want to let her have custody of their son. He wants to keep this kid away from her as a way of getting her back for trying to take the boy from him. And the fact that she's now engaged to marry Thorne only makes him angrier. He cannot handle that or anything that goes along with it, and he's mad. He wants to know if there is anything he can do at this point, and there's not much he can do at this point.
Eric called out his own son and his desires helping his brother, and he also noticed that his daughter-in-law is spending a lot more time at the Spencer offices than the Forrester offices. There is no reason for Brooke to spend that kind of time with her own ex, but she is. She knows it's bad news, too, after Bill kissed her last week. She should have walked away and told him that her intentions are not to cheat on her husband or leave him for Bill, but she allowed him to kiss her, pretended it was all a horrible mistake, and then kept coming back. She knows what she is doing, and she's a fool for doing it. She needs to spend time with her husband, but she's making poor choices.
What's Happening on the Bold and the Beautiful
The #BoldandBeautiful stars can definitely relate to their characters! Which B&B character are you most like? pic.twitter.com/daIsePysDw

— Bold & The Beautiful (@BandB_CBS) September 21, 2018
We think that some of this might be very true, and we like to think that while some of these people are a lot like the character they play on television, others are not. We want to say that we think they are going to be the kind of people who like to get their situations under control, but we also want to think that they are the kind of people who are kind of similar — well, in some ways.
What's Next on the Bold and the Beautiful
Bill fights for his son this week on #BoldandBeautiful. Don't miss it! pic.twitter.com/0Ni3Cjd9mL

— Bold & The Beautiful (@BandB_CBS) September 23, 2018
Thorne and Katie are making some major life decisions today, and you might want to stay tuned for what they have to do. They decided that they don't want to face this hearing without being a family in the true sense that a family really is, so they're getting married. They are going to head down to the courthouse before they head down to the courthouse so they can make their marriage official. They want to be a married couple before the hearing, and we do wonder if they think that they have a chance to get Will to themselves if they can present a happy family rather than a single mom. We don't know what they have in mind, but they're getting married.
Justin worries about Bill all the time, but he's especially worried right now when his ex-wife weds Thorne, and he's got to keep his eye on Bill as he fears for his behavior. He doesn't think Bill will do anything to himself, but he does worry that he will do something stupid that changes the course of his life and the way things are going. We might have to wonder about this ourselves, too. And it's good for all of them to know that they cannot control one another. What has fans excited is that Bridget and Donna are both showing up today to see Katie get married in her quickie wedding. We all know it won't last for them, but her family wants to be there for her on her big day.
Stay tuned for more The Bold and the Beautiful and be sure to check out TVOvermind daily for the latest The Bold and the Beautiful spoilers, news, and updates.
Tell us what's wrong with this post? How could we improve it? :)
Let us improve this post!