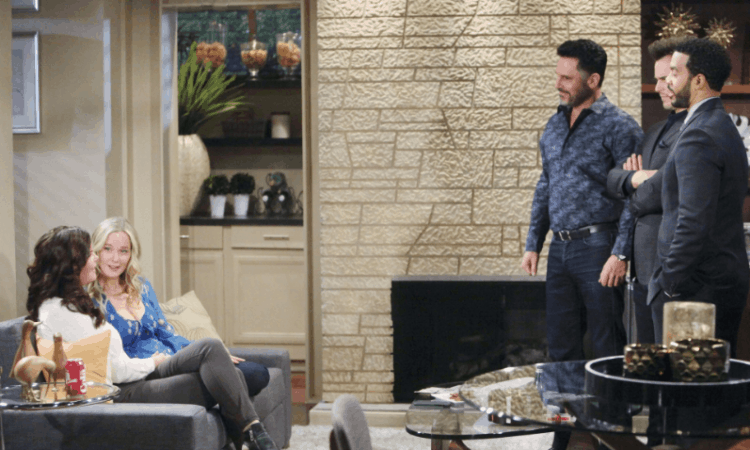 The Bold and the Beautiful fans are not all that amused with the game that Bill and Katie are playing. They have all the opportunity in the world right at their feet, and they insist on spending their time focused on all the thing that are not working in their favor. They are doing things in their own time, which is fine, but the time they are wasting is what has fans questioning everything in their lives. Why are they wasting so much time? Why are they spending all this time focused on things that aren't important? Who cares who is trying to get them together? We only care that they seem to be happy together and they want to be in this situation. They should focus their time and energy on just being together instead of, once again, focusing on all the people around them. That's what ended up causing their divorce in the first place, right? Well, that and the fact that he was into her sister.
Additionally, Brooke is focusing on Taylor too much. She should be focused on her grieving daughter, her husband who is being torn away from her by his ex, and many other things. But, instead, she's focused on what she feels Taylor is doing, which is using their daughters to 'win' the battle that they've had their entire lives. It's been a mess, and she will not let it go. Not that she should just let it go, but she should focus on things that are more important, such as being there for her family rather than being there for a woman she hates and ignoring her friends and her family and their requests of her. But, what do we know, right? She's focused where she feels her energy is most needed.
What's Happening on the Bold and the Beautiful
She's bold, beautiful, and bringing the drama! @DENISE_RICHARDS joins the cast of #BoldandBeautiful this Thursday! Don't miss it. ✨ pic.twitter.com/szeCTNcG7W

— Bold & The Beautiful (@BandB_CBS) April 1, 2019
We've been waiting on this to happen for a while now.
What's Next on the Bold and the Beautiful
This week on #BoldandBeautiful, it's the mother of all shockers! PLUS @DENISE_RICHARDS makes her B&B debut. 🌟 pic.twitter.com/SrIMeCmm9c

— Bold & The Beautiful (@BandB_CBS) March 31, 2019
Brooke is not going to be happy with her husband on today's episode. She wants him to take her side against the things that she feels Taylor is doing that are all wrong and not to Brooke's own best choices, and he won't do it. He does not find any fault in the fact that Taylor is out to do what is best for their daughter. He feels that she has every right to want to fight for Steffy and her own life. The problem they are all forgetting — though Ridge is not wrong in believing that Taylor is free to keep her own daughter's best interests at heart — is that Steffy does not want their help or their situation to hinder her in any way. She's not someone who is looking for her parents or anyone else for that matter to take control of her life. Again.
Meanwhile, Katie and Bill have found out who is trying to put them together — that was fast — and they are amused by it. They think it's cute and fun, and they are excited about it. Now, will they spend the rest of their time focusing on what they can do with one another or will they continue to bother with this situation? Will they just focus on things that might happen in their lives, or will they continue to focus on other things that just don't matter? We don't know, but we are excited to see where this goes and how this will work in their own favor.
Stay tuned for more The Bold and the Beautiful and be sure to check out TVOvermind daily for the latest The Bold and the Beautiful spoilers, news, and updates.