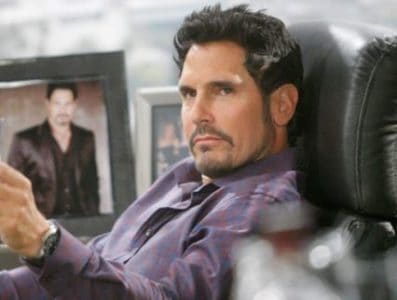 The Bold and the Beautiful fans are aware that Bill is having all kinds of trouble at this point in his life. He did it all to himself, but we also know that he doesn't see things that way. We know he sees things quite differently from anyone else, and that's something we can't help. He is someone who seems to want to have things his own way, and that's just how it goes for him. He's got a life and some friends and some stuff to deal with, but he also lied, cheated, and hurt a young woman.
His wife doesn't find that at all amusing. She's not happy with him and what he's been up to. And she left him. She's also spending more than a little time with a man she was once involved with, and he doesn't appreciate that, either. It turns out that he is also well aware that Brooke is spending ample time with Ridge.
So he's going to do the only thing he knows to do and he is going to threaten Ridge. He'll tell the man to stay away from his wife and get lost, and we have no doubt Ridge will really enjoy this. It's going to make his day, especially since he knows exactly how Brooke is feeling right now. There is no way he can possibly deal with his excitement any way than brag about how much time he's spending with Bill's wife at this point.