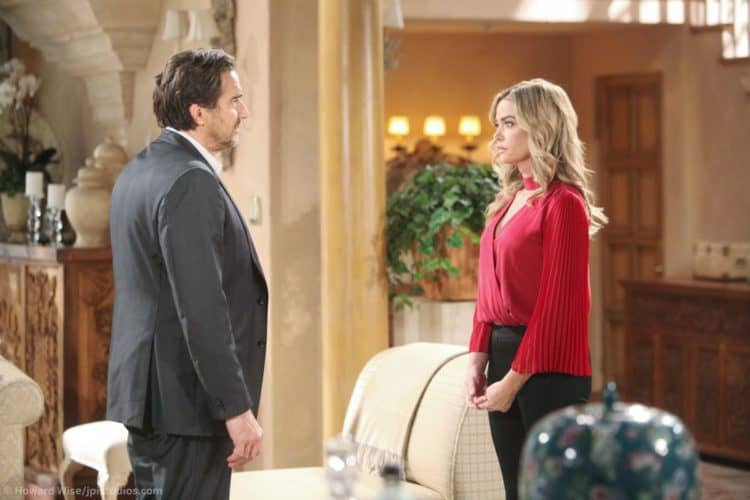 Bold and the Beautiful fans are sure that Shauna is the one person around here who is having the most thankful and wonderful week of her life. Liam is struggling with the truth he's learned from Hope as she finally opened up to him about the fact that she stood by and watched as she thought Thomas fell into a vat of acid and died, and she did nothing to make it right. She's struggling with the idea that things didn't work for her, and he's struggling with the idea that she was able to watch this and know the truth, and then she was able to sit back and lie to everyone about it and act like he was just missing instead of sharing the truth with anyone and trying to get him help. He's appalled and not really sure how to feel about any of this and what it means for him.
Then there is Brooke, who has to tell her daughter about Liam about what happened the night before. She and Ridge came up with a new plan for their lives, and that plan is not what anyone was thinking that it would be. They aren't sure that this is going to work out, and that anyone will be happy with the way that they are going to handle their situation, but it's a thing that she has to share. Liam, on the other hand, is just so distracted by all of this that he cannot even focus on how he feels about his mother-in-law at the moment. The fact that she is just who she is doesn't make him a very happy person. She's a horrible person who doesn't do things nicely in her life or the lives of anyone, and we cannot consider that there is anything else going on.
What's Happening on Bold and the Beautiful
https://twitter.com/BandB_CBS/status/1199387896777543680?ref_src=twsrc%5Etfw
We like them, too.
What's Next on Bold and the Beautiful
https://twitter.com/BandB_CBS/status/1199100901203427328?ref_src=twsrc%5Etfw
Sally is doing a big thing today, and she's discussing her wedding plans with Wyatt. She's excited about all that is coming for them and their future together, but she's going to blunder for a moment. We don't know what that means or how that will work for her, but she's going to say something that might just set someone off in a way that they don't want to be set off. We have to assume it will be his mother who is upset about his considering just how much she hates Sally. Quinn still wants to see her son marry Flo, who is a terrible mess who did awful and horrible things to people, but she still wants it. We don't know what Sally might say, but we do know that it might not be the best thing for the day.
On the flip side of things, we now that there is going to be a kiss. Shauna is going to give Ridge a kiss, and she is going to tell him that she is understanding and that she gets what he is looking for, what he wants, and how he wants to go about his future. She's feeling as if there is a big chance for her to get what she wants if she can continue to show that she supports him and loves him in her own right. Meanwhile, we also know that it's Thanksgiving, and we wish you all a happy one. Enjoy the day with your loved ones, and have so much fun.
Stay tuned for more The Bold and the Beautiful and be sure to check out TVOvermind daily for the latest The Bold and the Beautiful spoilers, news, and updates.