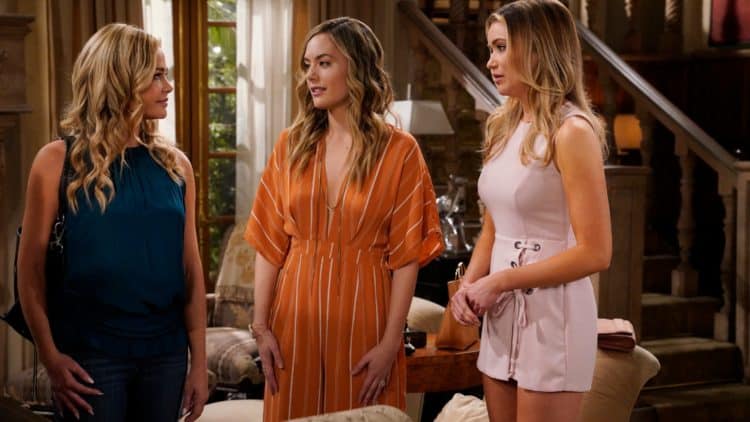 Bold and the Beautiful fans are so excited to see what this week has in store in terms of theme week for flashbacks, but we have some other news for you. This is not your typical Monday. In fact, this is the kind of Monday that should make you feel very, very good about life. We will get back to flashbacks tomorrow, but today we have something else in mind. Today, we have some big news. Are you sitting down? We hope you are sitting down for this. Fans have not been able to watch a new episode of this daytime soap in almost two months. It was April 23 the last time we saw a never-before-seen episode. We have been watching, waiting, and anticipating the day that we get to see some new episodes again, and it seems like we are almost there.
Production is Back On
Bold and the Beautiful fans, this is it. This is the first full week that the cast and crew are on the set and that they are working. The production crew went back one week ago, and the cast went back last Wednesday, June 17. This means that they are filming. There are new shows to film right now, and we will get some new shows sooner rather than later. The rumor right now is that it will be sometime in mid-July when we get to see some new episodes on the air for the first time in a long time. This is some of the best news that we've had in a long time, but we have additional news that might just make everyone feel better about your favorite actors and actresses and their safety.
New Safety Rules
From what we understand, we are going to see some new safety measures on set. Not that we've ever been on set, but you know what we mean. The set is not what it was before the pandemic hit. There are some big changes, some new rules, and a lot going on. First and foremost, there is a new rule about how many people can be on the set together at the same time. Additionally, everyone will work a much shorter day than they did before so that they don't extend their time around other people any longer than needed. Additionally, all cast and crew are now required to wear medical masks to cover their faces when they are on the set. The only time they do not have to wear something on the set is when they are in the middle of filming something.
We also understand that there are a few different situations going on, too. There are some scripts that have not been able to be used. They will be rewritten, we assume to keep as many people from being filmed at one time as possible. Everyone will get to go back to work, but at staggered times throughout the day so that they don't have to work too many people in the same place at the same time. There are also enhanced cleaning measures going on around the set to ensure that all things are as clean and sanitary as possible.
Excitement is Mounting
What has us feeling even more excited is how excited the cast and crew are to get back to work. We love that they love their jobs and want to be there to film, and we cannot wait to see what happens when they return. As of right now, we are loving the rumor that we might have only another month to go before we begin to see some new shows, but we will wait patiently until then. For right now, fans will continue to live with weeks that are focused on flashbacks, fun themes, and everything in between. We don't know what else is going to happen in the near future, but we are ecstatic to know that there is a chance we will get to see something happening in terms of new episodes much sooner than we thought. We are so happy that everyone is back to work, and we know you are just as happy.
Tell us what's wrong with this post? How could we improve it? :)
Let us improve this post!