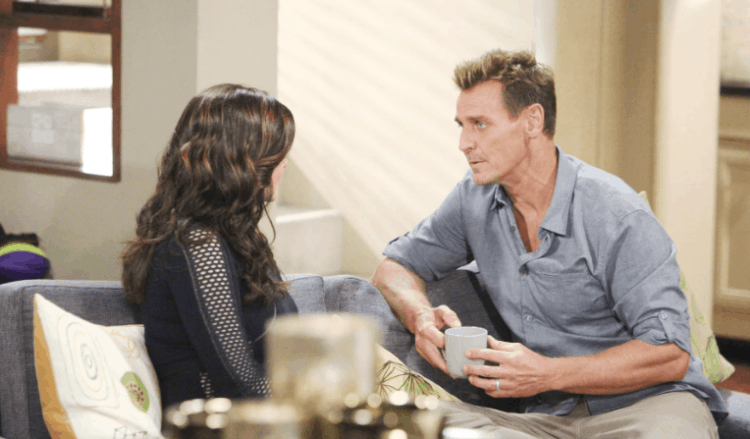 The Bold and the Beautiful fans are very excited about a few things, including the fact that there seems to be some serious stuff going down for Hope and Liam. We think that Zoe is so close to the truth now that she will find out what really happened with baby Beth. She's managed to get Florence to confess that she is not the baby's mother and that this entire thing is a plan that Reese cooked up to make them all miserable to get himself out of trouble and to keep his own daughter safe. Zoe is so confused about what to do that she cannot even handle it, but she's going to need to find a way to handle this before it's all too late. She's not in a good place right now. But she has to make a decision. Now she knows the truth, will she tell them what is going on or will she continue to protect her father? She will reach out to him and tell him that they need to know. Will she tell?
And then there is Katie. She went out of her way to plan a very romantic first Valentine's Day for herself and her husband, and things are not going her way. In fact, they are very much going a really bad way. So bad, in fact, that she's not sure what to do with herself. She made this all so sweet and romantic and possible, and then he dropped this insane bombshell on her about their marriage. She did not see this coming, and we are not sure there is much we can do to make that seem better. It's all ugly news right now, but that's not what we expect to see get much better. She's on her own now.
What's Happening on the Bold and the Beautiful
We've got a #BoldandBeautiful exclusive today! @JohnMcCook44 saw @THEEdarinbrooks' Spread the Love Sweepstakes video and wants to reciprocate the ❤️ right back. RT if you enjoy this as much as we do! pic.twitter.com/3At1UK6GjO

— Bold & The Beautiful (@BandB_CBS) February 12, 2019
Can you help your favorite stars spread the love?
What's Next on the Bold and the Beautiful
https://twitter.com/BandB_CBS/status/1094627048767709184?ref_src=twsrc%5Etfw
Hope cannot remember much from the night her baby was born and died. She's been in a dark place since it all went haywire for her, and she's not sure she does remember much. But, if she can remember something, she might know that something is definitely off. Perhaps she can remember hearing the sound of the baby she was told was born dead crying. Perhaps she can remember something about Reese that was very off and didn't make much sense. Perhaps there is something she might remember tha twill hep her with this, but she's struggling to remember what happened at all. She's upset, and that's something she can't handle. Zoe now knows the truth, and she's calling her father to tell him that this family needs to know. But he might not agree.
Meanwhile, Katie's husband just told her that their marriage is not what he wants and it's not what he needs, and that he's taking off. She's having the worst day of her life, but Wyatt is definitely having one of the best days of his. He and his girlfriend, Sally, are celebrating their first Valentine's Day together. In the bedroom. What a way to make the day a memorable one, and we are just cheering for their relationship to work out for them. But, we hear that there's a new Thomas in town — well, not that they will acknowledge that he's new — but we worry that this might cause some problems for him. And we ant to know that it won't.
Stay tuned for more The Bold and the Beautiful and be sure to check out TVOvermind daily for the latest The Bold and the Beautiful spoilers, news, and updates.