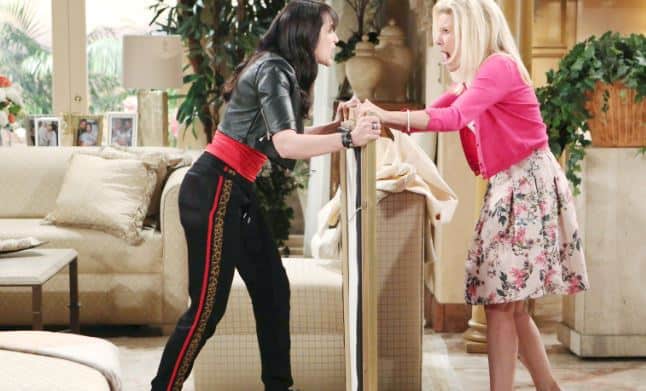 The Bold and the Beautiful fans know that many things take a big turn around here for something that might good, and it usually always turns out for the worst. Ridge and Thorne spent the day listening to questions from the detective and doing their very best to keep their involvement in all that happened to Bill as innocent as possible. Of course, they will blame it all on him and make it his fault so that he looks worse than they do, but they were heavily involved and this was a fight that wasn't good. They came in there to confront him, and they knew darn well something like this was bound to happen. Even Bill knew that this would happen, and the man is seriously injured at this point in his life. He's not got much hope at this point, and he's not awake. And there is a good chance these two might have killed him and they will be charged with murder.
Liam is there to see his father, who is not yet awake. He knows that he and his dad have had some rough times, but he's not about to let another moment go by in which he doesn't try to work that out. They've never gotten along for more than a few days at a time, but we are sure he thinks – just like all the other times — that this time will be totally different. If his dad wakes up, he will do anything and everything in his power to make sure they are good to go and things work for them. But we don't know about that and what might happen in the meantime. There's just so much going on we aren't sure about in this situation, and neither is Liam.
What's Happening on the Bold and the Beautiful
From the @CBSBigBrother house to Forrester Creations, these two fit right in! Let's give a round of applause for our #BoldandBeautiful guest stars @BB20Brett and @TylerCrispen2. 👏 pic.twitter.com/jkf6qxVhfs

— Bold & The Beautiful (@BandB_CBS) October 24, 2018
We love when guest stars come to town to make things feel more exciting and fun. These people seem to be making the most of their situation, too, and that really does make us all feel good about the way things are going. We want to see more, so bring it on ladies and gentlemen!
What's Next on the Bold and the Beautiful
A battle becomes the fight of Dollar Bill's life. You won't want to miss it this week on #BoldandBeautiful! pic.twitter.com/hOoyG6QS64

— Bold & The Beautiful (@BandB_CBS) October 21, 2018
This week is ending with a huge bang, but what else is new? Eric has to stand between his wife and his longtime employee, and we don't know who he will choose to side with. He will stand between them for now so they might stop their arguing, but Pam's been with him a heck of a lot longer than Quinn. She's been loyal to him since the beginning of time — so it seems — and this is not something that they can do with their lives other than get over it. Will Quinn let this go too far and potentially upset her husband and his feelings? She might, and that's exciting for us. She's been far too boring for far too long, and we don't appreciate it at all.
But then there is the fact that Katie is going to be very unhappy with her new husband. She's not happy that this happened to Bill, and she wants to know why he thought he should go allow this to happen when her son's father might die. He might think he is doing all he needs to do for her, but he's actually only making things in her life worse by upsetting her son. She's working to find out what is best for her son and give him that, and she's not amused. Bill could die, and that will leave her son without a father. And is that what he had in mind when he marched over to Bill's to beat him up and send him to this situation?
Stay tuned for more The Bold and the Beautiful and be sure to check out TVOvermind daily for the latest The Bold and the Beautiful spoilers, news, and updates.