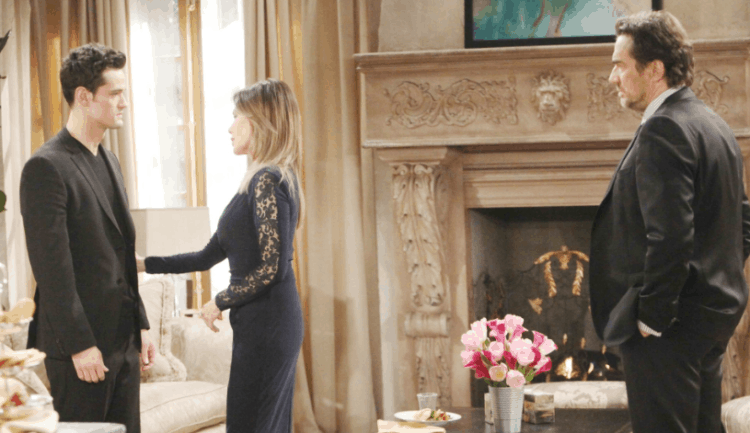 The Bold and the Beautiful fans were a little bit shocked to find out that things went down the way they did already this week. For one, it was a little shocking to all of us to see how quickly and how much Hope bonded with Douglas. It was a little strange, to be honest. It's like she wanted this to happen, and she wanted to make everyone feel that she was a little bit too obsessed with this little boy. It's like she was looking to upset them all, and we cannot figure out where she felt that this was an excellent decision for her. We think it's her way of making sure that she can get her husband to leave her. She is, after all, convinced that she's able to get her life in order if she can give these little girls the father that they deserve and leave her out of all of it. It's like she doesn't feel as if she deserves to have any happiness in her own life at this point.
We just don't know, though, how this might play out. Will there be a way for her to make this situation work in her favor? Will she be able to make things seem natural and good in her life, or will she end up with more questions than answers? Will she have a chance to be the person she wants to be, which is a mother? Bill and Katie are starting to realize they are being set up, but they also kind of like it. It's like neither of them wants to admit that they like what is going on in their lives and they are happy together They are, though, and we love that about them. We want to see them work through this and make it happen, but will they?
What's Happening on the Bold and the Beautiful
These two could use a little ❤️ this week. #BoldandBeautiful pic.twitter.com/w9DiE3qvqG

— Bold & The Beautiful (@BandB_CBS) March 19, 2019
They are the new kids on the block, and we want to welcome them.
What's Next on the Bold and the Beautiful
When tragedy strikes, a family fights to find strength this week on #BoldandBeautiful. ❤️ pic.twitter.com/OzMfV6qtD6

— Bold & The Beautiful (@BandB_CBS) March 17, 2019
Katie and Bill have realized that all their meetings are not just coincidental, but they are not going to spend much more time focusing on what is going on other than that they do like it. They might not work on this on their own, but they are beginning to see that everyone in their lives is going to want to see them together. To the point that Bill's son and Katie's former lover, Wyatt, and his girlfriend are even in on this. Bill and Katie were married and they do have a son, but they don't know that things will not work out for them. They are not sure what to do next as it has been a while. They were not good to one another when they were married, and Katie literally just got married a few months ago after she made the decision to take Will away from Bill and ask a judge to keep their son away from him at all costs.
But that's find. W also know that there is a moment that will change the direction of things right now. Taylor is going to kiss Ridge when they are reliving some of the moments from their own life and past, and he might just like it. They've been spending a lot of time together recently, and we think that they are in the middle of a total reconciliation. And the fact that Brooke will see their kiss is something we don't know how to handle. It seems like a mess to us.
Stay tuned for more The Bold and the Beautiful and be sure to check out TVOvermind daily for the latest The Bold and the Beautiful spoilers, news, and updates.