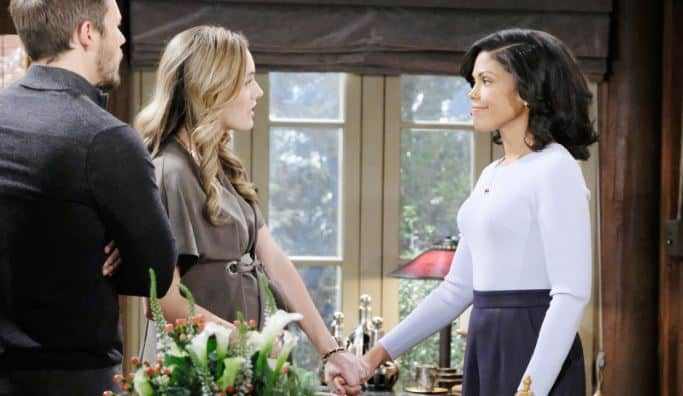 The Bold and the Beautiful fans are excited that the holiday week is here, and that is one thing we can get on board with. They are having a fun time with their friends and families right now, and that's something we just cannot want to see and share with everyone. The families were all together for the holiday, sharing their time and their love with one another. It was all relatively drama free and happy for everyone, and even Ridge was on his best behavior with Taylor. He presented his daughter with a gift to give her mother from him, and it was a very kind thing for him to do. Of course, we suspect that Brooke has no idea he did this or he would freak out and make it seem like the worst thing ever, but we do get that he still cares for her as the mother of the only child he does have.
And then there is baby Kelly and their sweet new Christmas love. The families had a wonderful time celebrating with her and the family, and that was beautiful. The Logan sisters helped Pam and Charlie with their dinner so that it was not entirely ruined for them, which was another beautiful thing. This all worked out for all of them, and we are all just impressed that they were able to focus so much on what is good in their lives so that they could have more time with themselves and with the people they love. It was a lovely week for them, but we all know that this means that something is going to go down and change it all. No one has a week this good without something going down and changing it for them. So, we suspect that things will begin to change soon.
What's Happening on the Bold and the Beautiful
Just two more days until we celebrate the holidays at #BoldandBeautiful, and you're invited! Leave your RSVP below. 👇 pic.twitter.com/VEe0Ppb6kE

— Bold & The Beautiful (@BandB_CBS) December 23, 2018
We don't know about you, but these ladies look amazing. And that's what we love about them the most. We cannot wait to see them all live their best lives as the season continues, and it's just as exciting now as ever before.
What's Next on the Bold and the Beautiful
'Tis the season for holiday magic, surprises, and wishes. ✨ It's all coming up on #BoldandBeautiful this week! pic.twitter.com/89nPTrgiRX

— Bold & The Beautiful (@BandB_CBS) December 23, 2018
Hope is going to surprise her husband with a getaway for the two of them. She wants to have a babymoon with her husband in which they go away for a few days and spend some quality time with one another without anyone else there to interrupt their time. It's a true story that she feels as if she is sometimes left out and her own life is sometimes made more complicated by the fact that he has a daughter with Steffy and they are such a big part of her life and her marriage. So, she wants to get away and spend this time with her husband without any interruptions. He's surprised by her that she even wants to do this, and he's happy that she does. However, things will change for them before they get away on this trip. For one, he has to go check on his daughter, and that means she's left behind.
It's not really a secret that she is tired of being left alone and being left out of things. He has a daughter with another woman, and that baby is important to him. She gets it, but she's not happy that this baby and Steffy still get so much of his time. She wants him to be a wonderful father to their baby girl when she is born, too, but what will happen when he also has to spend time with Kelly and her vision of a perfect little family is all but perfect? We don't know, and we aren't sure what will happen.
Stay tuned for more The Bold and the Beautiful and be sure to check out TVOvermind daily for the latest The Bold and the Beautiful spoilers, news, and updates.