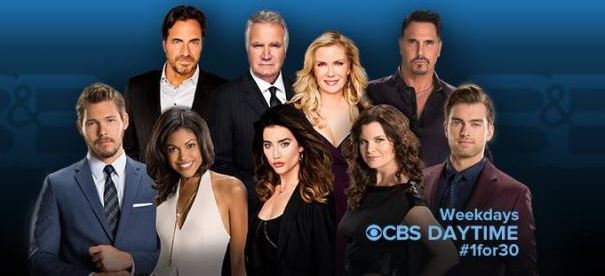 The Bold and the Beautiful fans can say with certainty that this is one show in which every year is pretty much just the same as the year before. Brooke makes up her mind to leave one husband for another. Katie ends up hurt. Wyatt ends up hurt. Liam cannot make up his mind, Quinn cannot stay out her son's personal life, and Eric is always naïve about the women int his life. All the years are the same around here, it's just a different person taking turns in each story line. That's the truth no matter how you look at it around here, and we appreciate that. We like knowing what we can expect, what works, and what does not work, but today is a new year. And we wonder if there will be any other changes this year. We know that there will be, and we have to predict to you what we foresee happening in the new year in LA as these people continue to live their lives.
Hope Won't Be Happy
She's going to go through some sort of dramatic birth of her daughter, and then they will live happily ever after — for a moment. Then she will realize that she is not her husband's only baby mama, and she will not like sharing her own husband and what she feels should be their own happy family with another woman her daughter. He has another daughter, too, and she will struggle with him as he struggles to be there for both of them. She will cause some issues in his life, and she will make him feel that he has to choose between her and her daughter, or his other daughter. There may even come a time when she asks him to try to get custody of baby Kelly so that they can be a real family with him there for their babies at the same time.
Divorce
We predict a few of those. Let's start with Katie and Thorne. We think that he is leaving — well, the actor is leaving the show according to recent rumors — so we think their marriage will fail. We also think that Hope and Liam will end up divorced before the year is over since he didn't really want to pick her in the first place and she's not really the one he wanted to be with. We also predict that there is not a chance in the world that Ridge and Brooke will remain married. They have a long history of not working out with one another, and we think this will be another of those moments in which things do not work out for them. But that's not all. We also think there is a good chance that Eric and Quinn will call it quits before the end of the year, too.
Liam Will Struggle with Choices
We do know that Steffy chose herself and her daughter, but that won't last. She will find herself in a situation where she and Liam begin to fall in love with one another yet again, and they will have to choose how to go about that. But the problem will be, once again, that Liam doesn't know what to do. He will, once again, find himself in a place where he is forced to decide between the two women that he wanted to be with in the past. And he will not be able to make that decision.
Spoiler alert — the parents of both women will find a way to tell him that they know what he should do, they will get too involved, and there will be more issues, bigger issues, and more situations to deal with than he can handle. It might occur when Steffy begins dating again and he decides that he is not a fan. It might occur when he opens up to her about how Hope is feeling with him and his first family. It might be at work, or when they are doing things with the baby, or whatever. They might just work it out in some other way, but it will happen — and he will never change. Not ever in his life.