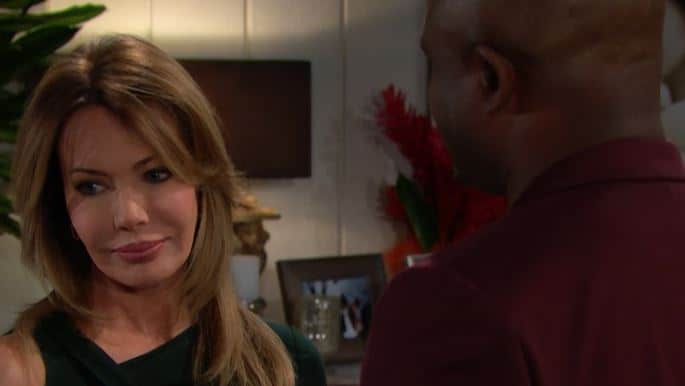 The Bold and the Beautiful fans were all kind of surprised and interested in what happened last week, but things will never get better for Taylor if she's not careful. She got down on her hands and knees and she literally begged Brooke not to say anything about anything to anyone. She was upset, she was not good, and she was not going to handle this situation well on her own, but this all turned into something else entirely. We were also all concerned with the way that things seemed to unfold for people like Bill. He was very honest about the fact that he was not going to share the news with anyone that he was aware of what happened with Taylor, and Brooke was furious. It's not her business or her decision, but she made it seem like it was a lot of both. She's not happy.
On the other hand, Liam is not going to do himself any favors by continuing to argue with the way his ex feels about her mother. She's good with her mother, knowing that what her mother did was only to protect her daughter. And Liam needs to back off. Sure, Kelly is his daughter, too, but she's not all that amused that both Brooke and Hope are throwing their business into this. She's probably not going to spend much more time being kind about anything at this rate, and we do not even blame her. She seems to be over all of this, and we cannot handle it. They do need to mind their own business, but that does seem like something that's totally impossible and not going to happen. Even Ridge decided to weigh in on all of that for a moment. It wasn't pretty for anyone. We cannot even imagine.
What's Happening on the Bold and the Beautiful
Just a #Wally appreciation post because we love them so much! RT if you do too. ❤️ #BoldandBeautiful pic.twitter.com/GtkH6kMNdX

— Bold & The Beautiful (@BandB_CBS) December 7, 2018
This is one of those things that we do appreciate, and we want to show that with every single word we write. Can we see more of them in the future, please?
What's Next on the Bold and the Beautiful
The sure bet, the ace in the hole and the wild card 💥 Don't miss a minute of #BoldandBeautiful this week! pic.twitter.com/ogaVPmjQ6R

— Bold & The Beautiful (@BandB_CBS) December 9, 2018
There's nothing that Brooke can do right now but she's not happy about any of it. She is beyond upset that Bill will continue to keep his promise to Taylor to keep her out of jail. She's livid, and she would like for him to reconsider that and not make that decision. However, she has to face the fac that he also made the same promise to her about her own husband. And that's not good. She's not going to be very happy when her own desire to send Taylor to jail for doing this is not handled by Bill, but he will remind her that if he sends Taylor to jail for shooting him without telling the court that Ridge bribed a judge, things will not be fair.
Will Brooke see it that way, or will she continue to see things her own way? She will not do well in her own life if she continues to do things that make life difficult on everyone but her. She's not a person who is happy if she's not getting her way, but she is also not a person who will do much else, either. She has to take a step back and realize where she is, who she is, and what she is doing in her life. She's a mess, but she's going to see what she can convince Bill to do. He is not easily swayed, but he is going to try and do what he can to win her back, so this could go either way.
Stay tuned for more The Bold and the Beautiful and be sure to check out TVOvermind daily for the latest The Bold and the Beautiful spoilers, news, and updates.