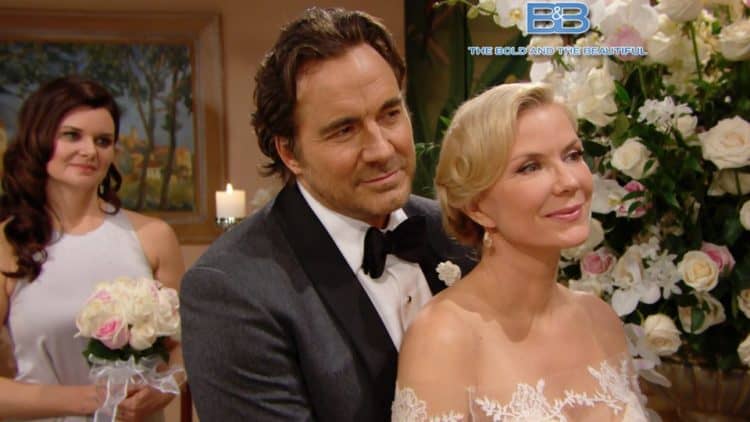 Bold and the Beautiful fans are sad that there are no new episodes to air right now, but we are a little bit excited by all that is going on otherwise. You see, we are getting a glimpse into the past as we see things unfold in other ways. It's been a fun week of flashbacks already, and last week was all about Monte Carlo and the events that took place there. This allowed us to go back in time a few years to see how things were going, what was happening, and all that was so exciting at the time. Right now, though, we also get to see that there are more fun things in store that we can look deeper into. For example, this week has a theme, too, and it's iconic wedding week. Today is the first wedding of the season, and we are kicking it off with a look back at the wedding of Ridge and Brooke — their first. Taylor is being held by Prince Omar, trying to get away to let her one true love know that she is all right, but it's his wedding day. So, we thought we might take a look back at some of Ridge and Brooke's most amazing weddings.
1994
Taylor was gone, held captive by Prince Omar and he knew he would be with Brooke the rest of his life. They didn't work out, but he and Brooke were certain that they would. This wedding was a sweet one, but it didn't last long at all. They didn't even make it to 1995.
1998
When they got married the second time, it was a mess. Taylor was pregnant with Ridge's baby, but Brooke did not want him to find out. So, to prevent her from telling him about it and her not being able to marry him again, she moved the wedding up one hour. This gave her all the time she needed, and she was able to find her true love waiting to marry her and leave for their honeymoon immediately after. Imagine what happened when he found out his baby was born as he was exchanging vows.
2003
This was the interrupted wedding. She told him at the altar that she felt he had feelings for another woman — her daughter no less — and she was right. They did not get married that day, but they did elope shortly after to South America.
2004
The prior year marriage they had did not last. But, that's all right. They tried again in 2004. She had feelings for Nick and Ridge, but decided that it was a good day to marry Ridge even though she had feelings for another man. Good choices, we thought.
2006
This was the wedding that took place in the living room. The bride was taken forcefully right after her vows by Nick, who took her upstairs and forced himself on her to give her a passionate kiss. She resisted for a half second before she began passionately kissing him back. We did not see this marriage lasting long. We were correct.
2009
This was, perhaps, our favorite of their weddings. They were married on the beach, but without guests. Jus them, both happy and in love, and that was all they needed in the moment. Unfortunately, Pam didn't get her own job right, and their marriage was later deemed invalid. They were able to, a few months later, berate another person into making it official, though.
2012
This is the one where they got married at home — again — but that his own mother actually gave her blessing. This was special because it was the first time she was ever kind to Brooke, ever.
2014
It didn't really happen. Katie fainted in the middle of the wedding and needed to go to the ER, but it all ended up being fake because she and Ridge loved one another and she didn't want to see him marry her sister. It worked.
2018
Drama, drama, drama. It was at home, and it was very similar to the one that did not happen in 2014, but it did work. Of course, they've threatened to divorce on two separate occasions since, but that's no big deal, right?