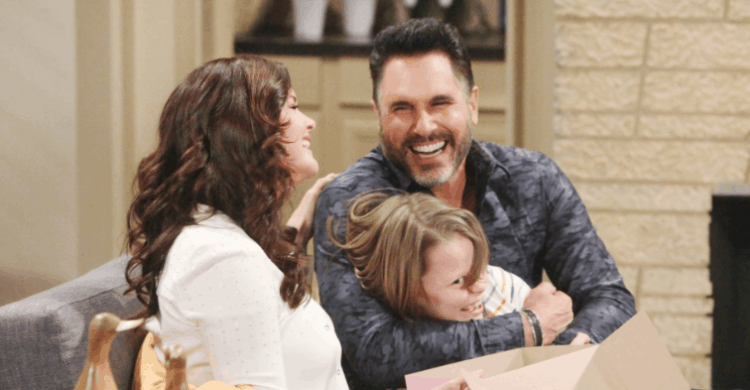 The Bold and the Beautiful fans can all agree that Hope was a little bit too excited about the idea of Douglas wishing she was his mother. He just lost his mother and he's feeling all kinds of sad and upset, and he's asking her for things like this that we all know are a terrible idea in every single manner of speaking. But he doesn't seem to care as a child, and she's too involved as an adult. Thomas, on the other hand, seems fine with that. He's a single father looking to find something to make him feel better and to make his son feel better, and his stepsister is being there for both of them — and we have to say that this sounds like a very bad idea. She's still trying to push her own husband out of her life and get him to go back to Steffy, who took off in hopes that they could fix their marriage and leave her out of it.
Ridge is not sure what to do about the women in his life. He asked Brooke to stay away from Bill when he was kissing her and trying to win her back, and now she is doing the same thing of him and Taylor. The problem is that he and Taylor share kids and grandkids. His wife and Bill do not have kids together, so that was a much more viable situation for them. There is not much we can do other than sit down, hope this works, and make a case of it in our minds. What will he do? He cannot avoid the mother of his children for the rest of his life at his wife's request, but he's also not in the market to lose his wife.
What's Happening on the Bold and the Beautiful
Bring it on! 👏 @CBSDaytime has 74 #DaytimeEmmys nominations this year, and we can't wait. The countdown starts now! pic.twitter.com/dzIYEcjf7z

— Bold & The Beautiful (@BandB_CBS) March 30, 2019
That is a lot of nominations.
What's Next on the Bold and the Beautiful
This week on #BoldandBeautiful, it's the mother of all shockers! PLUS @DENISE_RICHARDS makes her B&B debut. 🌟 pic.twitter.com/SrIMeCmm9c

— Bold & The Beautiful (@BandB_CBS) March 31, 2019
Bill and Katie are on to the plan to get them back together, and now they want to find out who is behind it. Really? Is this all that important? Will this change their feelings for one another or make one bit of a difference in their lives? Maybe they should focus on their lives and reuniting with one another and even on their son and then go from there. Maybe that is the best way for them to find some happiness and some peace and something else that will work for them. Maybe, just maybe, they should find something that will bring them joy instead of focusing on the stuff other people are doing. But, they won't, and they will find out and they will end up doing things that don't work for them because they cannot focus on themselves.
Brooke is convinced that Taylor is using her own daughter and Brooke's daughter to fight their own battle. She feels that her enemy is using these girls to recreate her own losses in the history she had with Brooke, and Brooke doesn't like it. In reality, though, they are both in the same situation and they are both doing the same thing. Of course, Brooke never takes responsibility for anything she's done or doing in her life, and she never will. We have no doubt she will continue to spend her life focusing on things that have nothing to do with her at all, and that's just all there is to it.
Stay tuned for more The Bold and the Beautiful and be sure to check out TVOvermind daily for the latest The Bold and the Beautiful spoilers, news, and updates.