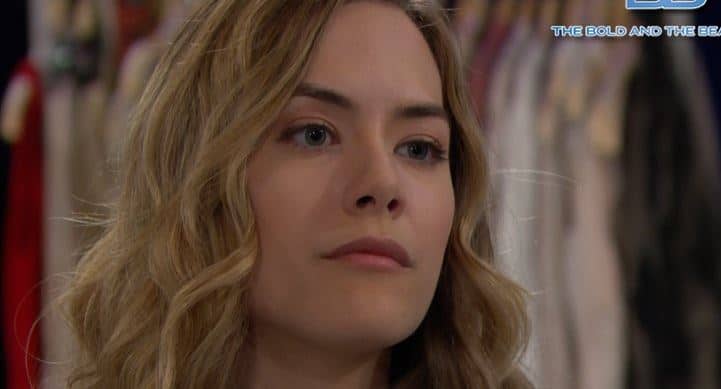 The Bold and the Beautiful fans watched as Brooke and Ridge decided they would come to a truce. They spend entirely too much time fighting over their kids. They are rarely in a good place because of it, and that's not good for anyone. But they have decided that the work they're doing at Forrester doesn't have a real place in their lives. They have to find a way to make sure that they are able to handle what they are doing with a passionate embrace rather than anger and hatred for one another when things don't go their way. It's all about that for them, but they're not too good at it. They don't seem to have that much going for them, but they do seem to have a lot that they can work on. But we still don't think that Brooke will keep her word. She's too much of a busybody when it comes to Hope.
Xander's in a bad position with Zoe working on seducing him behind Emma's back. He's been with Zoe for a long time in the past, and he knows she's crazy. However, he's so attracted to her that he does want to be with her. And he finds himself in a bad place because he doesn't want to hurt Emma and he does have feelings for her. But being around Zoe makes it hard for him to remember that he left her because she's crazy. She's been doing an amazing job of showing him that she's not since she's been modeling, and seeing her all the time has been difficult for Xander. We think he will go for it, and we think that he will lie to Emma about it. She will find out, though, because Zoe will have some proof it all happened.
What's Happening on The Bold and the Beautiful
Ever wonder what's in the BoldandBeautiful stars' dressing rooms? Now you know! 🌟 pic.twitter.com/KNG3N9jzfh

— Bold & The Beautiful (@BandB_CBS) September 12, 2018
We are in love with this one. What do you keep in your dressing room is a question a lot of actors and actresses get, but so many of them change rooms after a movie or a short show. This is a long-term job that requires spending years in the same room, and we bet some people have some of the most outstanding situations in their dressing room.
What's Next On the Bold and the Beautiful
Boardroom Battles & Bedroom Bombshells. 😏 Don't miss a very exciting week of #BoldandBeautiful! pic.twitter.com/5R5JOGPDXY

— Bold & The Beautiful (@BandB_CBS) September 9, 2018
What on earth is happening right now? We are going to see a family divided over something that might not even be their own business. For example, we know that Bill wants to make sure Katie doesn't take his son from him full time, and he is going to use her past against her if she files custody paperwork. And she's going to do it. And she's upset by all this. Her own sister, Brooke, is supporting Bill, and Brooke's husband, Ridge, is going to come out and support Katie and Thorne as they go through this situation together. And Steffy is going to question her fathers reasons for wanting to support them.
But more interesting in this entire situation is that this week is going to end on a high note. It's been a bad week for a lot of people, a good week for some, and it's going to get even better for two people. Thorne is going to tell Katie he loves her. He cannot live without her, and he wants her to know that this is where he is at with his mind and his feeling at the moment, and that's not all. He is going to ask her to marry him. He wants to know if she will be his wife, and he will also want her to know that he plans on supporting her for the rest of his life — including the time when she has to face Bill and risk losing her son to him. Will this work for them at all?
Stay tuned for more The Bold and the Beautiful and be sure to check out TVOvermind daily for the latest The Bold and the Beautiful spoilers, news, and updates.