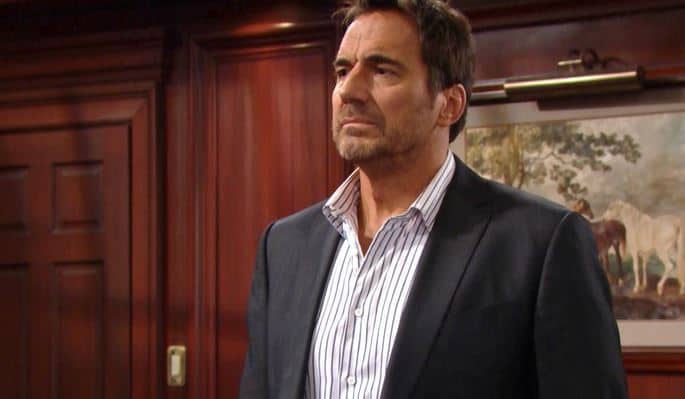 The Bold and the Beautiful fans know that this is a short week, but we need to take a moment to recap what happened last week. For one, there was so much drama between Bill and everyone else in the world except for Justin. They are a bromance unlike any other, and we aren't even positive that there is a chance they can be mad at one another. We like it, though, so we will take it. They seem to have something that works for them, and we are good with that. But for now, however, we have to sit back here and wonder if there is anything that we can do or say or change or work with or whatever that works out for all of us. And for now, we just have to point out that Ridge aged about 7 years in the past week. He's in trouble, and he knows it. And, it's not just his marriage this time around. He's got problems he cannot live with at this point in his life, and that's bad news for him and his family.
And then there is the fact that we cannot seem to handle anything that is going on with any of them in any other capacity. His wife will do anything to protect him, but Bill is sitting back and letting them all panic for the moment. We did, however, love seeing Liam and Wyatt spend some quality time with their baby brother. Will needs that kind of bonding and experience in his life, and we appreciate that in so many ways. He's a good man who has good times, good lives, and good everything else. We love that about them, and that works for us. But, we can't help but wonder if Ridge might find a break this coming week.
What's Happening on the Bold and the Beautiful
To get ready for the holiday, we're thinking about what we're thankful for. Want to know what @THEEdarinbrooks' answer was? YOU! ❤️ Tweet us what you're thankful for. pic.twitter.com/Q7EgKLRpdv

— Bold & The Beautiful (@BandB_CBS) November 15, 2018
It's not an uncommon question this time of year, but we all wonder what you are thankful for this season. What do you want to say thanks for? And what do you think that your favorite stars want to give their thanks for and to?
What's Next on the Bold and the Beautiful
Nothing says Thanksgiving like family, fights, and fun times! Join our holiday celebration this week on #BoldandBeautiful. ✨ pic.twitter.com/XpnSq0R9Vw

— Bold & The Beautiful (@BandB_CBS) November 18, 2018
Ridge is positive that everything Bill is doing by pretending to be a good guy is a lie and a bunch of bull, and that he means none of it. He's unappreciative of all of that, and he is not going to sit back and allow that to happen in his life. He's telling his wife that she didn't do this because she's a good wife, she did this for him because Bill wants to win her back. It's all an act, and Ridge knows this. However, Brooke does not seem to want to respond to any of it, and that's all there is to it. We know that this is probably right, but we don't know how to handle the situation at this point.
And then there is the moment that we know that Bill will make a very important decision to discuss some stuff with his two oldest sons. We hear that he will call Liam and Wyatt to his office and he will make it a point to tell them that he has a legacy for him. He will not allow them to make things worse for their family, and wants to prove to them that they will have a much better life than they assume. He wants to have them take over the things that he's worked so hard to have in his own life by growing his situation and making it all work out. But there is a little they have to discuss. There's not much we can handle, but this is one of those things he can't let go.
Stay tuned for more The Bold and the Beautiful and be sure to check out TVOvermind daily for the latest The Bold and the Beautiful spoilers, news, and updates.