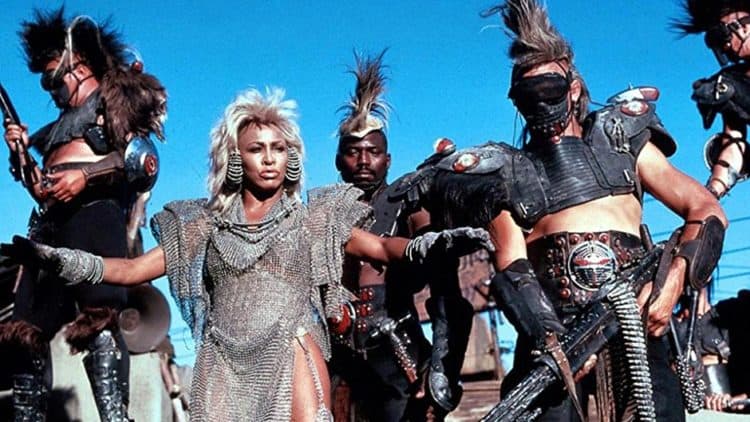 There's a lot to the story of Tina Turner, starting with the fact that her given name at birth was Anna Mae Bullock. The hows and whys of her name change have a lot to do with Ike Turner, who was also quite responsible for her rise and her eventual departure to solo fame. While it's not entirely necessary to relive the sordid details of their marriage and everything that went on it's easy enough to say that the abuse she suffered was too much and wasn't warranted much of the time, so Tina left. Since that time Ike has been made into a running joke and Tina has been a superstar that everyone has felt comfortable falling in love with. Since leaving Ike she became an even bigger star and a much stronger woman as people have seen since her career since that point has been nothing short of spectacular.
Here are some of her songs as they were used in movies and TV.
5. In Living Color – What's Love Got to Do With It
Obviously the title of the song was changed and it's a rather shameless way to look at the relationship between Ike and Tina, but that was the way In Living Color did it back in the day. They took some of the greatest songs and made them into parodies that might have made some of the audience boo but still made a lot of them laugh since their impressions were meant to be over the top and flat out ridiculous. David Alan Grier was one of their members that knew how to dial things up to an 11 without much prompting as he'd played some of the most outrageous characters on the show from the moment he came on.
4. Lip Sync Battle – Proud Mary
Say this much for John Krasinski, the guy really gets in to whatever he's doing. Proud Mary is a song that just about anyone could sing and anyone at all could lip sync to, but it's one that you kind of have to really get into since it's a fun and very dynamic track. On Lip Sync Battle the best performers tend to get so into the song that it doesn't matter if they're using backup dancers or props or anything else, they simply have such a good time that you can't help but get into it because they're up on stage just enjoying themselves. Krasinski is the kind of guy though that just jumps into a role and makes it his, which is even better when he's just having a good time.
3. Goldeneye – Goldeneye
In almost every James Bond movie there's one song or another that people pick up on as being just for that movie. This one benefited from having none other than Tina Turner singing the theme song and a lot of people don't even realize it. Goldeneye was actually a big deal when it came out since a new James Bond had been selected and people were eager to see how Pierce Brosnan was going to do. He did great of course, and Famke Jansen provided a villain that was kind of impressive but also a little unnerving since her main weapon was her thighs and the crushing force she could produce with them. How many guys had smiles on their faces though?
2. Days of Thunder – Break Through The Barrier
In the history of racing movies you'll likely find this on just about everyone's minds since it was a great movie when it came out and it's still considered to be one of the better ones that's been released throughout the years. One thing about racing movies however is that they don't really come out that often. You might see a movie that features racing or that centers around it, but the main story will usually be taken well away from the track and given a life of its own that doesn't revolve around racing. This however was all about the race and the desire to win and the lengths that some people will go to so that they'll be the first across the finish line.
1. Mad Max Beyond Thunderdome – We Don't Need Another Hero
Two men enter, one man leaves, that's the rule of the Thunderdome, and it's non-negotiable. The third installment of the Mad Max series was one that kind of played upon the continuing decline of humanity and the need of some to impose their will upon others, but it was still one of the best. Given that the post-apocalyptic world that Max was reborn into was a very nasty and unfriendly place it was a stroke of luck that he was given a chance at revenge and to recover his losses at the end of the movie. In fact it was even more amazing that he was left alive.
Tina Turner is 79 now. Can you believe that? What a career.