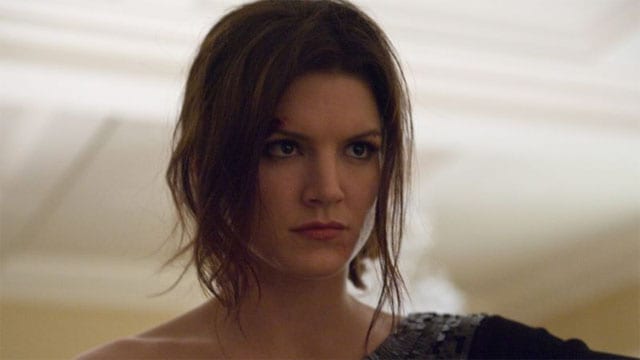 It's always cool to see actors get down and dirty in movies, but let's face it, it's not like the real thing. If you watch mixed martial arts, or in other words, are a big UFC nut, you'll know what real fighting is all about. If don't have to enter the octagon if you value your brain function or just don't want your ears to puff up. That's okay, because watching those legends go at it is fun enough. When those guys fight, it's what real fighting looks like from real professionals. If you watch them in the octagon, you might catch them in movies and television from time to time. And if you do see them, you can tell they know what they're doing. Hey, they're in the fighting business for a reason.
Now if you love mixed martial arts, I think we should breakdown the best appearances by some great MMA fighters in movies and TV. Sometimes, they'll make short appearances in direct-to-video movies and just play themselves for five minutes. To me, that's just not enough. Believe it or not, some MMA fighters can actually act, at least better than most (Stephen Bonnar, cough, cough, cough).
Get your gloves on, MMA fans, because it's time to breakdown the best appearances by MMA fighters in movies and TV. Let's begin with the movies.
Movies:
3. Quinton "Rampage" Jackson – The A-Team
Remember the original A-Team? Yeah, they were way before my time, but to me, the most memorable thing about it was B.A. Baracus. It's probably because he was played by the very muscular, very intimidating Mr. T. Although, I have to admit, when I think of Mr. T, I just see the menacing Clubber Lang. And after 2010, I can now think of B.A. Baracus as the very aggressive and former Bellator and UFC Light Heavyweight Champion, Quinton "Rampage" Jackson. The man may be well past his prime, but he really killed it during his run in the UFC. With 38 wins and 14 losses, Rampage has a respectable legacy in the fighting business.
Now the 2010 reboot of the A-Team didn't get the best reception, but I really dug Rampage's performance as B.A. and the amount of butt he kicked. What was really interesting about his performance is that he didn't spend most of the movie being the angry tough guy we're used to seeing him as. We actually got to see Rampage act as a pacifist who refused to kill. On top of that, he was utterly terrified of flying. It was fun seeing Rampage be something other than the typical tough guy.
2. Bas Rutten – Here Comes the Boom
If you want someone to teach you how to win a bar fight, talk to Bas Rutten. This guy was fighting in mixed martial arts even before the UFC became the UFC. He's got an impressive resume with 28 wins and 4 losses, and holds multiple black belts in karate and taekwondo. Aside from all his fighting in the ring, he's also known for his multiple street brawls and bar fights, including one in Sweden where he fought multiple bouncers at once. If you don't believe it, just go ahead and question him at your own peril.
It's fun to see him fight, but the man can also be funny at the same time. Just go watch the 2012 sports comedy movie, Here Comes the Boom. Bas Rutten plays a former MMA fighter and a Dutch immigrant attempting to become a U.S. citizen. His teacher: Kevin James. Kevin James needs money, so he decides to fight as a mixed martial artist, with Bas Rutten training him. There are a lot of laughs, bruises, and chokeholds along the way, and you can watch Bas Rutten do his famous victory dance. No, he never actually did that, but listen to him talk about it on Joe Rogan's podcast. The man can fight and he can make you laugh. In my opinion, that's one killer combination.
1. Gina Carano – Haywire
Yeah, I know, Gina Carano is in some pretty hot water right now. However, that really has nothing to do with her career as a professional mixed martial artist or her career in movies. If you still don't like her, I get it, but if you ask me, she's super fun to watch in her movies. Just check out her debuting leading role in the 2011 movie, Haywire. She beat the total snot out of Channing Tatum, Michael Fassbender, Ewan McGregor, and was about to do the same to Antonio Banderas before the credits rolled. If you want to see some real girl power, watch Haywire.
Television
3. Gina Carano – The Mandalorian
Wait, Gina Carano again? Well, it's only because I can't ignore her recent role as Cara Dune in the hit Disney+ series, The Mandalorian. It's a real bummer we probably won't see her as the character again, but I can't deny that she killed it as Cara Dune. She was able to go toe-to-toe with bigger male characters, including aliens and stormtroopers, and even Mando himself. Give her a blaster or have her go barehanded, Gina Carano was really able to flex her muscles as Cara Dune. Will they recast her? Time will tell.
2. Michael Bisping – Warrior
Warrior was a short-lived series that seriously needs to be revived. Maybe it will be, but if you have HBO Max, you can check out the full two seasons. If you watch one particular episode in season two, you'll catch the famous British former mixed martial artist, Michael Bisping. In the episode "To a Man With a Hammer, Everything Looks Like a Nail", Bisping plays the ferocious Dolph Jagger, a rival to the main character, Ah Sahm. He's about what you would expect, considering Michael Bisping is playing him. He's super tough, but he likes talking smack with his English accent above all else. If you just like listening to Michael Bisping talk, then watch him in Warrior.
1. Randy Couture, Frank Trigg, Quinton "Rampage" Jackson, and Dan Henderson – The King of Queens
Number one goes to a killer appearance from multiple UFC fighters, some of the best that entered the octagon. Randy Couture, Rampage, Dan Henderson, and Frank Trigg make small, but awesome appearances in an episode of The King of Queens. Watch the episode, "Fight Schlub" and you'll see Kevin James and his crew attempt to fight a rival group of deliver guys. The result… didn't go to well for Kevin James and his team. Aside from seeing so many former champions in one scene together, this was a hilarious scene to watch. It's all fun and games until one of them rocks you in the jaw. Lucky for Kevin James and his crew, they were all fake fighting, but it looked real enough to remind us why those guys won the belt.
Tell us what's wrong with this post? How could we improve it? :)
Let us improve this post!