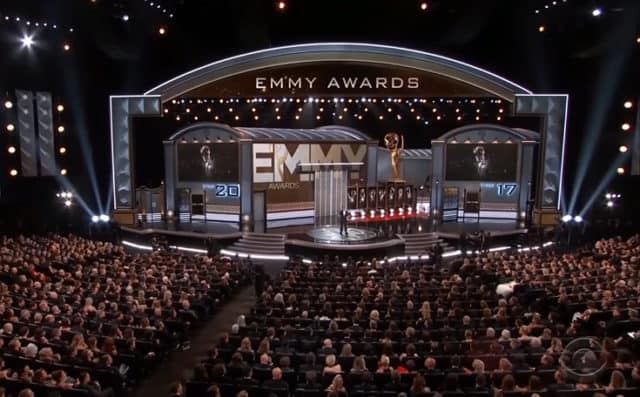 There was an entirely different article I was writing for the 2017 Emmy Awards, but it's gonna have to wait. The news about Sterling K. Brown winning best dramatic male actor for his role in NBC's This is Us hit my newsfeeds last night, and what should have just been a happy thing, was not. Brown, the first African-American man to win in twenty years, got "played off" the stage for time constraints!
The 2017 Emmy Awards – Sterling K. Brown's Speech
https://youtu.be/XtOFyOfe2T4
Meanwhile, prior to his win, Nicole Kidman gave a longer speech for her win as best actress in the limited series Big Little Lies. She was completely uninterrupted.
The 2017 Emmy Awards – Nicole Kidman's Speech
https://youtu.be/vwu5-GOZSuA
It's great that Kidman got to "shine a light" on the issues of domestic violence. She did so at the end of her speech after thanking everybody and anybody. She explained to her two little girls that it was because of doing work that gets her awards like the Emmys that she's not always home with them. I'm sure every working mother relates – even if they aren't A-list movie star celebrities.
There's been plenty written on the strong showing of women and women's issues at this year's Emmys. Big Little Lies, and Kidman's character in particular, ties into that positive trend. Variety has a review touting what a great year for women it was at the Emmys – and it was. In no way is this article discounting that fact. No one is begrudging Kidman her time on stage. At least no one was before the mess with Sterling happened.
The Comparison: Why This Blew Up The Internet
If you listen to the applause and look at the people who got on their feet when Brown won you'll notice something. There were a lot more people standing and applauding for Brown's second win of the night then there had been for Kidman. It's because Brown's win for the best lead actor in a drama series was one of more historic significance. Especially considering who he was up against, This is Us being a network show, and him being the first African-American to win the award in 2o years.
Kidman had stiff competition as well – but she's Nicole Kidman. Her winning wasn't as big a surprise. In and of itself, the win wasn't a historical marker either. Streaming and cable have drowned out the voice of network TV for years – it started with The Sopranos. A show not on major network winning an Emmy is no big deal.
That the CBS 2017 Emmy Awards producers decided Kidman deserved the extra time, but that Brown didn't, feels…Trumpian. Given the way the show's opening monologue went, I suppose the lack of respect given Brown shouldn't have been surprising.
A Harbinger for the Sterling K Brown Speech:
the Opening Monologue
The 2017 Emmy Awards host was Stephen Colbert – so yes, there were high expectations. I generally enjoy his work, and there's no question that his opening musical number was brilliant. Even the dancing Handmaids – some in drag – was darkly subversive. When his monologue started I was prepared for a good time. It certainly started out well.
Colbert opened his 2017 Emmy Awards monologue with jokes about the Hollywood crowd's preparation for awards shows and how President Donald Trump spends too much time watching TV. He then doubled down on how great Game of Thrones is compared to everything else out there. That was annoying – but not horrible. (I'm sorry, but GoT is not the only show in the television world worth watching.)
Had that GoT comment been the most grievous thing all would have been fine – but it wasn't.
How Colbert and CBS Missed the Mark
Colbert said some lovely words about the first responders and all people pitching in to help the victims of hurricanes Harvey and Irma. He even gave out a number ( 1 – 800 – 258-6000) where people could donate to the Hand in Hand hurricane relief fund. That organization did a telethon last week that thus far has raised 44 million dollars. Unfortunately, that soon turned into a gag about the telethon itself. Luckily most of the people affected by Irma last week don't have power so they'll have missed that.
They also missed the awkward product-placement joke, and a joke about HBO's having to deal with their recent hack. The hackers stole some HBO shows – including the beloved GoT – and demanded ransom to not post them before the official air date. "Too soon," smirked Colbert.
Between the Russian hacking of the U.S. election, the worldwide ransomware attacks that hit hospitals and other businesses in May and June, and the mess announced just last week about Equifax being hacked – yes, it is! I thought we've gotten past the jabs people made at Sony when they got hacked in 2014. These kinds of massive hack attacks are as much robberies as break-ins to brick and mortar buildings. On top of that, these hacks often come from foreign countries. Being hacked is no longer a joke.
From Bad to Worse
I wish I could say things got better. Again, it started out so well…
For the third year in a row, this was the most diverse group of Emmy nominees in Emmy history (Applause) That's impressive. I didn't know you could applaud while patting yourself on the back at the same time. Well done!
If only he had stopped there. What he said above was fine, a nice acknowledgement of the issues of diversity in media. Did he move on? Nope. He then began to name African-American nominees, who then got put in a spotlight! Like, seriously, Mr. Colbert? You're going to personally call out the black nominees?
Ironically, right after this, Colbert would go into an amusing discussion about President Donald Trump. He joked about the president's obsession about not getting an Emmy. It's too bad he didn't recall how the press slammed then candidate Donald Trump for being at a rally and saying "look at my African-American," because what he basically did was, " look at our African-Americans!" Sadly, there isn't a single black person in America who hasn't experienced the awkwardness of having to sit in a room of mostly white people and be singled out simply for being black.
At this point, I was hoping that crack Colbert made about having to thank CBS Chairperson and CEO Les Moonves and saying, "we did it" means that Colbert isn't responsible for all these missteps. The network's been in the spotlight recently about its own diversity issues – with good reason. If CBS wants to show commitment to diversity they need to throw away Trump's playbook.
The Final Straw – Sean Spicer
Just when I thought maybe things were going back on track – this happened.
https://youtu.be/MX8MMxTQSzI
Now, on one level, this was funny. It's making fun of how ridiculous it was that President Trump's former Press Secretary Sean Spicer got up and blatantly lied to the American public on his first day of work. If Melissa McCarthy (who later won an Emmy for her SNL portrayal of Spicer) had done it, this skit would have been pure political satire.
The problem with Spicer's appearance is that it's treating him like a normal celebrity and not as the man who's been lying for the White House for months. Trump's presidency has been a mass of deceit and propaganda – which Spicer helped distribute. Just because he resigned his White House position in mid-July doesn't change his participation. To make the point, here's an extreme take on it. Had he lived would the world have normalized Joseph Goebbels – Germany's minister of propaganda during WWII?
My reaction wasn't an isolated one. Many on social media had a similar reaction.
Trying to normalize Sean Spicer already? #Emmys pic.twitter.com/47SEoUKNfj

— Gabe #DreamActNow Ortíz (@TUSK81) September 18, 2017
I can't normalize a man who lied for months and called concentration camps "Holocaust Centers". #SeanSpicer

— Tony Posnanski (@tonyposnanski) September 18, 2017
I'll laugh with #SeanSpicer when he is arrested for his role in helping circumvent democracy and conspiring with a hostile foreign nation.

— Infantry Vet (@ericgobucks) September 18, 2017
https://twitter.com/KAmorphous/status/909573477648207872
The 2017 Emmy Awards Wrap Up
Remember the bombastic Trump loyalist Anthony Scaramucci? He was the White House communications for all of ten days before getting fired. Scaramucci ended up on Stephen Colbert's show about ten days after being fired. Again, the normalizing of people that have been onboard with Donald Trump's attacks on basic truth and American democracy. That interview got good ratings, and Trump is not the only person obsessed with those. As such, it's not that surprising that Colbert and CBS stepped into the ring to try and rehabilitate Spicer.
After Spicer's appearance, I'd seen enough of the 2017 Emmy Awards. It's how I missed seeing Sterling Brown's epic win – and CBS's epic fail. In this case, the fail on Brown falls strictly to CBS. It's their producers that made the call that Brown's speech should be cut off in the name of "keeping on schedule." Nevermind that these award shows go over a little (or a lot) quite often. This is the rest of what he wanted to say.
What happened to Brown alone would have been a disgrace. When put in the context of Colbert's opening monologue, it makes sense that those running the 2017 Emmy Awards missed the importance of Brown's win and why they should have just let him talk. Yes, he was able to give his full speech backstage. I guess he should be grateful for that? At least he got to do it, even though it was the Hollywood equivalent of being sent to the back of the bus. Nice work, CBS.