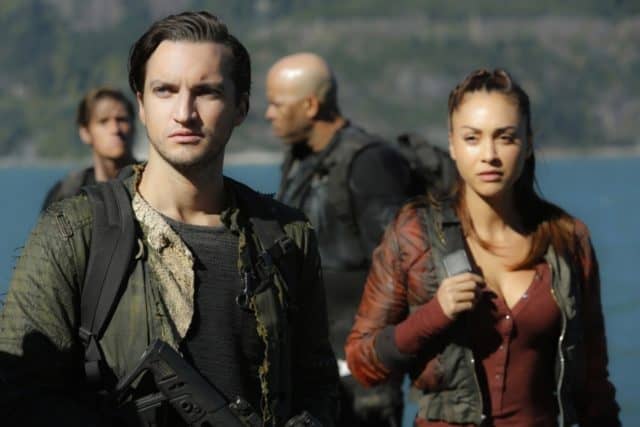 Sometimes it's hard to review a show that maintains such a high level of intensity and quality for such a long time. The 100 does such a great job with maintaining intensity on what most would consider a slow-burn, serialized story, that it's hard to review it week to week. They don't have a ton of ups and downs, they have some ups but are relatively constant the rest of the time. All of that said, I think this week's episode was an up.
This week on The 100: The peace in Polis crumbles when Roan finds out about the preparations for the Ark, which puts Bellamy and Kane in jail. Octavia rushes to warn Skaikru of impending war, but Roan's forces catch up to her. Jasper and Monty find Clarke's list in the chancellor's office, and make its contents known to all Arkadia residents. Jaha helps Clarke deal with the fallout from the list. Abby takes Raven, Murphy, Emori, and Luna to an island in hopes of finding a medical cure for the radiation.
Generally, The 100 does a great job of maintaining its high level of intensity throughout multiple episodes in an arc, and "A Lie Guarded" was no exception to that. Even when they trade the intense battle scenes for intense political moments (this one had a healthy mix of both) they operate on an extremely high level. There are a couple things that really stood out about this episode, though, that I want to highlight.
Number one, the fact that Clarke's list was still brand new when it was discovered and put on blast. In most common shows, it would be kept under wraps until a crucial moment and then revealed, making the dramatic fallout feel manufactured. However, tackling it right away and not shying away from the fallout maintains the same courageous nature that I have long applauded The 100 for. It works so much better to deal with these type of moments right away rather than relying on the drama down the line. This tells me that The 100 has better things planned, which is exciting.
Number two, the "death" of Octavia was handled remarkably. Yes, fake death is a modern TV trope that is WAY overused. However, The 100 did a couple of things differently that made it work for the story. They handled the reveal that she wasn't dead almost immediately, which goes back to not manufacturing drama way down the line. Rather than leaving the audience wondering for months (*cough*The Walking Dead*cough*), they dealt with the reveal immediately. But, not so immediately that they couldn't give Bob Morley an incredible scene when he learns of her "death." I was both blown away and moved by that scene.
A few other thoughts:
Turning Clarke into Jaha is an incredibly compelling story of the complicated nature of leadership. It also maybe points to Jaha not quite making it out of the season alive. But that's just one man's opinion.
I knew that Octavia wasn't going to die, but if she had, that would have been an incredible way for her to die. But she's such a fantastic character that she deserves even better.
This was an incredible high point in The 100's season so far, and it has me primed for what the rest of the season will bring.
What did you guys think? Did you enjoy the episode? Let us know in the comments!
The 100 airs Wednesdays at 9/8c on the CW
Summary
Clarke deals with the fallout from creating the list, while Octavia rushes home on this week's stellar episode of The 100.