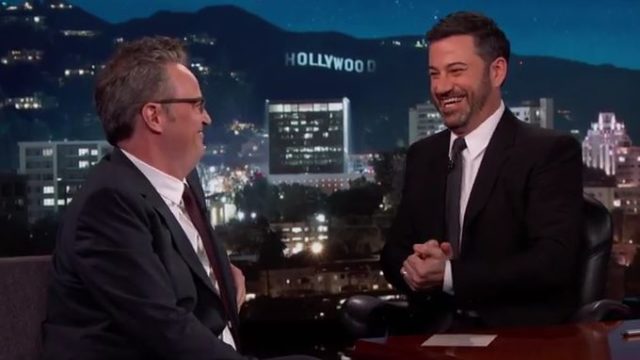 Matthew Perry was a guest on Jimmy Kimmel Live on Wednesday to talk about his TV miniseries, The Kennedys After Camelot. But as so many conversations do with actors of Canadian roots, the conversation shifted in that direction. In fact Perry and Paul Schaeffer said that since each of them was half Canadian that they could combine to form one American. I for one didn't find that even remotely funny. However, what everyone did find funny and interesting was the schoolmate that Perry used to get into fights with.
The former Friends star revealed that he actually went to school with current prime minister Justin Trudeau, and that he used to beat him up. "I think he was excelling in a sport that we weren't . . . so it was pure jealousy."
We've yet to hear from Trudeau on the subject so I think it would be Perry's word against the Prime Minister's. Call me crazy but I simply cannot picture Matthew Perry beating anyone up let alone someone as good looking as Mr. Trudeau. While looks may have nothing to do with beating up prowess I'm taking Elaine's line from Seinfeld claiming "he's just so good looking" as a legitimate reason to support my claim.
Check out the entire interview below: