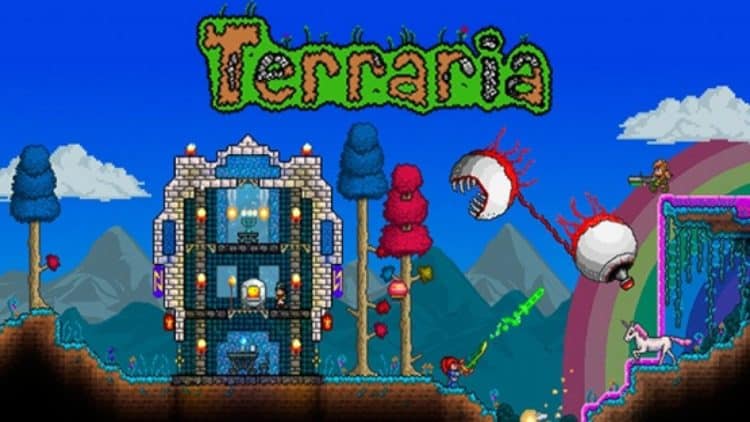 It's been a while since I've hopped into Terraria myself, but it looks like it just got a pretty major update on Steam! Terraria version 1.4.2 comes with a bunch of updates as well as support for Steam Workshop! If you haven't heard of Terraria before, it's a 2D crafting platformer kind of like Minecraft, but also completely different. It's almost more like a full-blown RPG with several endgame bosses and tons of loot to collect. I've always loved playing Terraria and I highly recommend it to fans of pixel-based games, Minecraft, or RPGs in general. So what exactly did we get with this new Terraria update? Well…it's a lot, so strap in, because there's a ton of stuff to talk about.
World Uploads
"Have a really cool map that you want to share? The best Terraria golf course ever? Maybe an epic adventure map that would blow peoples' minds? This is your chance to share it with the world!" It looks like you can now upload worlds for the rest of the world to see and play around in! I think this is a really cool addition to the game and I'm excited to check out what some of the community uploads!
Resource Packs
"Change how Terraria looks, sounds, and reads with custom Packs that can alter various aspects of the game. Resource Packs and alter one, two, or all three of the content types below:"
Texture Packs


"What if the Zenith were a giant banana? That doesn't sound too apeeling to us, but maybe its your thing – this is your chance to change up one, two, or maybe even all of the sprites in Terraria!"

Music Packs

"Want to change things up with the in-game soundtrack? Import your custom tunes via this very cool-sounding feature."

Language Packs

"Feel like you could make a better translation – or a new one? Want to write your own custom dialogue for the NPCs? This is your lucky day!"
So it looks like mod support is getting even more advanced with this update! If you'd like to dig even deeper into the Terraria modding experience, you can also use the currently available tModLoader, though this is currently still running on the 1.3 version of Terraria, however the team behind the tool is currently working on getting tModLoader up to the 1.4 version soon.
Steam Workshop Suport
Of all games that I feel should have Steam Workshop support, I think that Terraria is the biggest, and it looks like we've finally gotten it after all these years. Here are some of the features that are available on your Workshop page for each content item that you upload:
A description page, which can be updated with a full description of your choosing
A dedicated discussion forum for your content
A comments page
A changelog page for updates you've made
A variety of metrics and rating system information for Workshop files
An option to change the name of the content (it uses the file name of the uploaded item by default)
Options to attach additional screenshots or even videos to demonstrate your content in action
A visibility toggle (the same as the visibility option you set when publishing)
Other New Features
We've got a few other features added in this Terraria update including:
Added Steam Workshop Integration to Terraria, allowing the downloading and sharing of World Files and Resource Packs
Expanded Resource Pack Functionality to include Language Replacement and Music Replacement
Added a button to the Research and Bestiary Menus that lets you delete all current search text
Enemy Banners now also give increased player protection against enemy projectiles (previously they only applied to contact damage)
Added an option to change the name of characters and worlds
Terraria 1.4.2 Bug fixes
Of course we can't have a Terraria update without some bug fixes, and there's….a lot:
Fixed a recurring issue with Rolling Cacti spawning on Demon Altars and causing crashes
Fixed an issue where seeds would not always generate identical worlds, depending on how many worlds had been generated in that play session
Fixed an issue where some falling tiles would fall through platforms instead of landing on them
Fixed an issue where Paper Airplanes did not drop in the quantities that the Bestiary said they should be dropping at
Fixed an issue where falling coins were no longer able to land on top of other coins
Fixed an issue where Trap Doors would not properly sync in multiplayer, allowing enemies to move through them
Fixed an issue where sitting players wearing the Gi outfit would be in a "jumping" pose
Fixed an issue where spreading Moss would not always use the proper frame when on servers
Fixed an issue where Smooth Marble Blocks would merge with Echo Blocks
Fixed an issue where Ale Tosser did not properly receive Frostburn effects from Frost Armor
Fixed an issue where Smoke Blocks did not stay hammered between gameplay sessions
Fixed an issue where some Ocean enemies could spawn even behind safe walls
Twinkle Popper's Twinkles no longer pick up money, as they would delete it forever during their explosion attack
Fixed an issue where Fossil Pickaxe, Tree Globe, and World Globe would fall through blocks forever when dropped
Fixed an issue where the Wall of Flesh can drop below the world's boundary
Fixed an issue where Sergeant United Shield was accidentally showing accessory dyes under some specific circumstances, even though it is a weapon
Fixed an issue where Resonance Scepter and Life Drain could only knockback enemies to the right
Fixed an issue where High Velocity Bullets could sometimes hit particularly large targets twice (does not apply to multi-segment enemies, this should still allow multiple hits)
Fixed an issue where Pupfish were sometimes spawning in the Ocean
Fixed an issue where Wand of Sparking's projectile was using Melee damage modifiers, not Magic
Fixed a rare issue where the game could freeze if it was literally impossible to spawn a meteorite
Fixed an issue where Wasp Gun had a tooltip that just said "Wasp Gun"
Fixed an issue where players who died, or Hardcore player ghosts, would interfere with Player Logic Sensors
Fixed an issue where Star Cannon's projectile could not land critical hits, and wouldn't always receive proper stat bonuses from player equipment
Fixed an issue where Star Cannon's projectile could not be fired through platforms
Fixed a certain duplication exploit
Fixed an issue where Spikes would not hurt the player from some angles at certain elevations
Fixed an issue where World Globe would skip some forest backgrounds
Fixed an issue where Amphibian Boots stacked with other Frog Leg variants, even though Frog Leg variants do not otherwise stack
Yeah, there were a lot of issues that needed fixes in this update. Luckily, we've got fixes across the board and will hopefully improve your experience while playing Terraria. That's about all that was included in the new 1.4.2 update for Terraria. What do you think? Honestly, I think that Terraria has endless possibilities now that players have access to the Steam workshop.
Tell us what's wrong with this post? How could we improve it? :)
Let us improve this post!