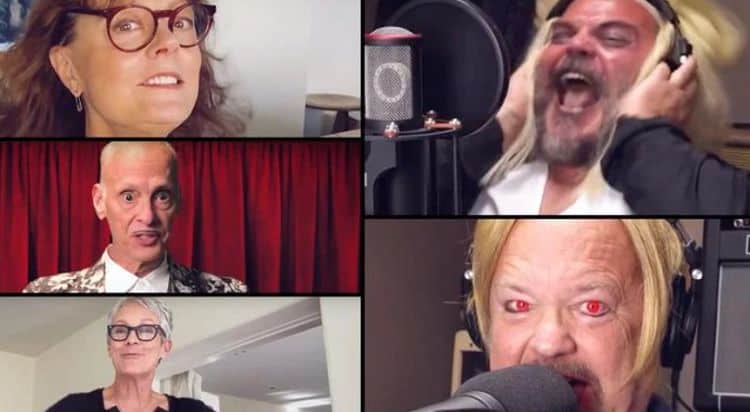 Has anyone else ever been given the impression that Jack Black was the kid that was seeking to get all the attention in school and did whatever he had to get it? That's the feeling that some folks might get, but he's made a rather impressive career out of this since he's considered to be one of the funniest men in Hollywood and it's displayed in this modified video for Time Warp from The Rocky Horror Picture Show. I might get all kinds of hate for this, but trying to figure out the allure of this movie is still kind of difficult, and even all these years later it's still kind of hard since it's definitely a wild and crazy picture, but at the same time there are moments that make it feel as though one's mindset has to be on a certain level to really get what's going on. To be fair, there are plenty of movies out there that people would say the same thing about that are just as revered as The Rocky Horror Picture Show, and it has maintained its cult following for this long, so saying that it's not a worthwhile movie wouldn't be accurate in the least. But like many movies, it definitely caters to those that enjoy this oddball kind of performance, and as a fan of Tim Curry, I can't really say that it's a worthless endeavor.
The Rocky Picture Horror Show has been a staple of Halloween for a while, and some people see no problem with the movie and absolutely love it, some are greatly confused by the content and the whole outlook of it. It's kind of interesting to note just who Jack Black managed to get to contribute to this video, but then a lot of things are a little more interesting in an election year to be fair and it's not intriguing enough to go into detail about it. What is worth talking about is that Black is without any doubt the kind of guy that would see this as a worthwhile project since he's all about showmanship and putting himself out there for people to see since this has been a large part of his character since his career really took off. At one point he was the wild and crazy guy that just wouldn't shut up and was usually the character that was pretty grungy, didn't have a lot of prospects, and wasn't the type of guy that a lot of people would want to associate with. In a sense, he was the dirty, filthy man-child that was endearing because he had a lot of heart but not a lot of brains. Obviously, his act would change eventually as in recent years he's calmed down quite a bit and become more of a scholarly individual, in a very fun way to be honest since he hasn't really lost his comedic side despite taking on more grown-up roles that have seen him as an authoritative character in some moments and a little wiser than he's appeared in a lot of movies.
His ability to take on The Rocky Horror Picture Show isn't really surprising since it's likely that he hasn't lost that much of the charisma that's carried him through so much of his career and might still be the exuberant individual that so many people have seen on screen over the years. It's fair to say that people haven't seen a lot of him in recent years, at least not as much as they used to since he's slowed down quite a bit. But every time he does manage to come up with something that people can enjoy it becomes a reason for people to get excited since it's something that a lot of folks happen to think is worth noticing. They could be right, but one really needs to be into The Rocky Horror Picture Show for this to sink in that much, since if you're not then it might be kind of comical, but otherwise, there's not a lot of emotional investment in it. Even being a fan of Jack Black's might not make one really care that much about this video, but it's bound to be different for everyone since some folks will get into just about anything as long as a favorite actor is promoting it, while some might get into something they like no matter who's at the helm. In any case, it's not hard to imagine that Jack Black was thinking about this for a while before he finally got busy with it.
There are a number of different movies and shows that are far more prominent during this time of year, and The Rocky Horror Picture Show is just one of them. But it's definitely one of those that people tend to go a little crazy for.