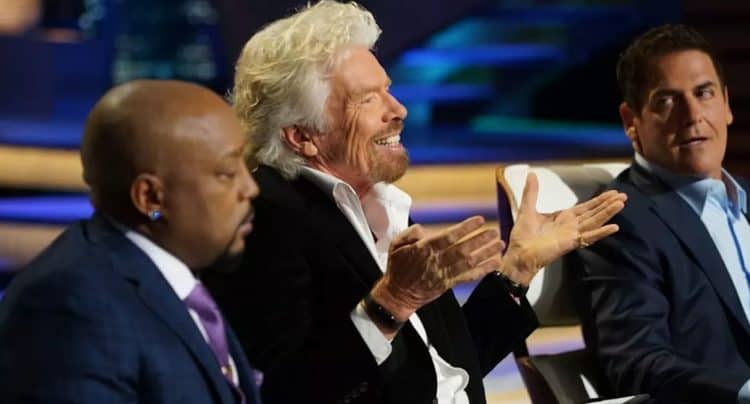 British Billionaire Sir Richard Branson's approach to life is simple: He looks at everything as an opportunity. He is generally positive about life and knows that we can always find ways of solving problems and making things work. This has led him to start businesses, some of which have failed. Not a single failure has stopped him from pushing his brands whenever he can. Sometimes, the best way to do that is to crush a rival's product live at Times Square, but other times, his strategy is as simple as making an appearance in a movie or a television show. These are some of Branson's past cameos:
1. 'Friends'
Richard Branson made an appearance on the fourth season of Friends. In the scene, Branson poses as a street vendor while Joey (Matt LeBlanc) and Chandler (Matthew Perry) shop for souvenirs. Joey tries on a Britain-themed hat that he likes, but Chandler thinks it is stupid. " Don't you think you have embarrassed me enough for one day?" He asks Joey. Branson stays out of most of the conversation until he lets Joey know that Chandler is simply jealous, and the hat was fit for the weather. Joey chooses the hat over Chandler, something Branson says is a good choice.
2. 'Baywatch'
Whenever Branson makes an appearance on a show, there is a big chance that one of his businesses is also being promoted. In the case of Friends, Virgin Atlantic flew the five of them to London, and on Baywatch, Virgin Cola, a carbonated soft drink that has since been thrust out of the market, was in promotion. In the scene, Richard happens to be in California, attempting to break a record and receives a call from singer Gladys Knight, much to the surprise of Hobie Buchanon (Jeremy Jackson) and his dad, who are looking on.
3. 'Birds of a Feather'
The British sitcom Birds of a Feather aired from 1989 to 1998. In the episode where Branson makes an appearance, Dorien ( Lesley Diana Joseph) joins the mile-high club on Virgin Atlantic, ironically. She goes to the upper-class section to 'find a nice wealthy tycoon.' The tycoon Dorien happens to find is Richard Branson, with whom she is 'charmed to make an acquaintance'. Branson is reading a newspaper but lowers it to shake hands with Dorien.
4. 'Around the World in 80 Days'
Around the World in 80 Days was released in 2004, based on a book that bears the same name. The movie stars Jackie Chan, Steve Coogan, and Cécile de France. If there's one thing Branson is known for, it's his love for activities that give one an adrenaline rush. The film did just that, since Branson made an appearance in it as a hot air balloon operator. The film did not do too well at the box office, as it made losses. It also earned itself two Razzie Award nominations and two Stinker Award nominations.
5. 'Casino Royale'
Based on Ian Fleming's novel, Casino Royale was released in 2006 and marked the third adaptation of Ian Fleming's work. The film, set around the beginning of James Bond's career as Agent 007, was, upon its release, the most top-grossing James Bond film at the time. In it, Richard Branson makes an appearance as a random passenger. Branson appears to have no luggage as he makes his way through security. Dressed in a navy blue shirt and a pair of jeans, it's possible for a viewer who's not so keen to miss out as Branson undergoes screening.
6. 'Only Fools And Horses'
Only Fools and Horses was a British sitcom that aired on BBC One from1981 to 2003. Starring David Jason, the show featured Richard Branson in his capacity as an airline owner. Del (David Jason), a trader who could sell ice to an Eskimo if need be, is seen in the scene determined to board a plane to Miami. In his rush, he's agitated by the person ahead of him in line and makes reference to him thinking he owns the plane. When the person does turn, the face of Richard Branson is revealed, much to Del's surprise.
7. 'London Dreams'
Richard Branson's appearances are not only limited to British and American television shows. Back in 2009, at the height of the penetration of Virgin Mobile in India, Branson made a cameo in London Dreams, a Bollywood movie. The musical drama features Salman Khan and Ajay Devgn as stars. Commercially, the movie was not so successful, neither was it well received. Most of the negative reviews had nothing to do with the cast but were more towards criticism of the movie's plot.
8. 'Superman Returns'
In 2006, Branson had a hand in the Bryan Singer-directed Superman Returns. The film, the sixth of the Superman series and the final one at that, featured Brandon Routh, Kate Bosworth, James Marsden, and Kevin Spacey as stars. It featured Richard Branson as a shuttler engineer. However, the billionaire wasn't the only one that made a cameo, his son, Sam also did. This time, Branson's Virgin Galactic shuttle was his venture that managed to take center stage. Following its release, the film received both positive and negative reviews in equal measure.
9. 'The Soup'
Hosted by Joel McHale, The Soup aired on E! from 2004 to 2015. The show's main focus was on popular culture, and McHale often reviewed every week's television highlights. In an episode of the show, Branson made an appearance as an intern. In his role, Branson had a habit of having water fights with Stephen Colbert, something he had been warned by McHale not to do. Not one to listen in any way, the habit eventually got Branson fired.
10. 'Derek And Clive Get The Horn'
Derek and Clive Get the Horn was a 1979 documentary film that followed comedy duo Peter Cook and Dudley Moore as they recorded their comedy album, Derek and Clive Ad Nauseam. In it, Branson's appearances were short and not particularly attached to a storyline. However, that's not the last of his appearance in a non-scripted show. In 2011, he and Kate Winslet rehashed a popular scene from the Titanic for CNN. Branson, in addition to making appearances, is also known to have starred in his own reality show.
Tell us what's wrong with this post? How could we improve it? :)
Let us improve this post!