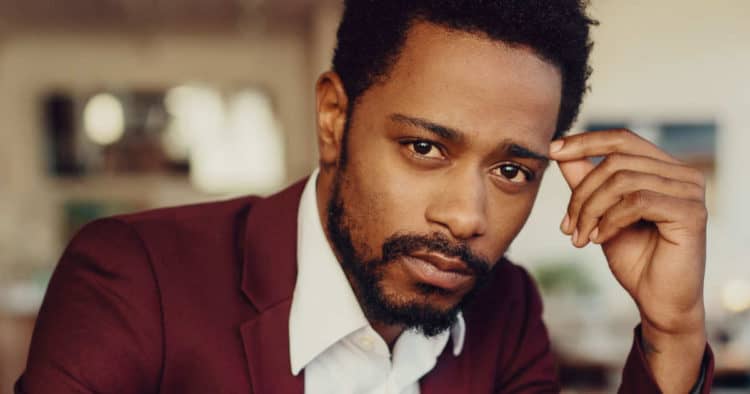 Lakeith Stanfield has been acting professionally for more than a decade. During that time, he's gone from an unknown up-and-coming actor to one of the most talked-about actors of his generation. Still, however, there are a lot of people who feel that he hasn't gotten the credit he deserves. At the same time, however, he has built an impressive resume that perfectly highlights his range. He has become known for his versatility and his ability to authentically bring each character he plays to life. Although he has TV experience, his film roles are what many people know him for, and he's built quite an impressive resume during his career. Any time you see Lakeith's name on the cast list, you already know you're going to get a stellar performance from him. Continue reading to see our list of the five best Lakeith Stanfield movies.
1. Knives Out
The 2019 movie Knives Out was the perfect combination of suspense, mystery, and comedy. It also proved to be the perfect outlet to put LaKeith's talents on display. The movie allowed him to show his versatility as an actor, and the fact that it also had several other all-star cast members was definitely an added bonus. Knives Out is the kind of music that appeals to a wide audience which means it allowed Lakeith to be seen by lots of people, many of whom may not have previously been familiar with his work. On top of that, being in the movie will likely open the doors to even more opportunities in the future. If there's one person who won't ever be boxed in to playing just one type of role, it's Lakeith.
2. The Photograph
Everybody loves a good love story, and The Photograph put Lakeith Stanfield right at the center of one. Starring opposite Issa Rae, The Photograph was released on Valentine's Day in 202o. This film was Lakeith's first time playing the lead in a romantic movie, and he proved that he can do it with ease. Not everyone has what it takes to pull off this kind of rule, but Lakeith didn't come to play. He brought his character to life in an authentic and entertaining way. Although the film recieved mixed reviews overall, it was another example of how he can do just about anything. After his performance in the movie, there are probably a lot of people who would love to see him take on another romantic role.
3. Sorry to Bother You
Sorry to Bother You was unique, funny, and interesting. Although it wasn't a hugely popular mainstream movie, it still managed to reach lots of people and that's largely thanks to Lakeith's performance. In the movie, Lakeith plays a telemarketer named Cassius Green who is a little down on his luck. Not only are things at work not going the way he would like, but his personal life is also in shambles. Everything changes, however, when one of his co-workers teaches him how to sound like a white person on the phone. The movie managed to stay funny and light hearted while touching on some somewhat serious topics and it was also one of Lakeith's first major roles.
4. Judas and the Black Messiah
Based on a true story involving legendary Black Panther Fred Hampton, Judas and the Black Messiah was easily one of the most highly anticipated Black films 0f 2021. The movie is informative and shows a side of the Civil Rights Movement that lots of people may not have been familiar with. Slightly gritty, but beautifully shot, the film maintains a high level of artistry from start to finish. Even though Lakeith's character, William O'Neal, wasn't very likable, Lakeith still managed to put on a performance that made it impossible for viewers to take their eyes off of him. On top of that, it was great to see Lakeith and Daniel Kaluuya work together again.
5. Crown Heights
Lakeith has played in several biographical films throughout his career, and Crown Heights is yet another one. Although the movie isn't as popular as some of the others on this list, it's still one of Lakeith's best. In the film, he portrays a man named Colin Warner who is wrongfully accused of murder. With the help of a friend he is determined to prove his innocence and get released from jail. Crown Heights is full of emotion and it allowed Lakeith to really dive deep into a character and show his range within one role. Lakeith's ability to really dive deep into his characters is unmatched and Crown Heights is proof.