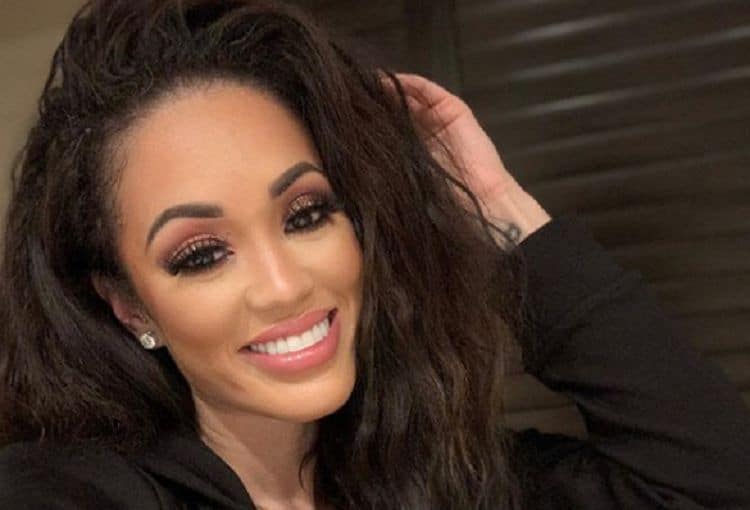 Most people know who Deyonte Wilder is, but that doesn't mean we know everything about him. For instance, we don't know much about the woman in his life that is so important to him, but we might want to know a bit more about her, to be honest. Her name is Telli Swift, and she's gorgeous. She's also part of WAGS, and she's also about to marry the love of her life. As he is going into the pinnacle height of his career, we thought we might get to know a bit more about the woman he will marry soon, and that means bringing both his fans and hers all the information we might not already have about this woman and her life.
1. She's Got a Daughter
She's a mom, and that's her favorite thing to be. Her daughter is a little older than two, and he had her with her fiancé. This is the only baby she has in her world, but she's about to be the stepmother to her future husband's kids. And, he has seven of them with his ex-wife and other women he's been with in the past. This means he is the father of eight, but she's about to be a mom to just as many.
2. Her Age
She's still young, but she's waited a while to settle down. She had her daughter at 30, she had her engagement at 32, and she's not yet married, either. She spent her 20s working on her career and her life that way, and she's not mad about it. She's done well in that aspect of life, and she's not someone who has any regrets about any of that.
3. She's a Model
In her earlier days, she knew she wanted to go to work as someone who did something bigger than just your average nine to five. She was looking to be something, to do something, to be someone. She was looking to be a person who modeled, and she's done it. She's had a good run of it, too, and she's managed to work hard at it most of her adult life, which as afforded her the ability to live the life she's been looking to live all this time.
4. She's Into Important Causes
Not only is she beautiful and talented in her work, but she's also good at being a giver. She is the head of WAGs in the boxing industry, which is a group of women who are with or married to boxers, and they spend their time giving back to those in need. They are looking to do good for those who may not be able to do that for themselves, so they work hard to raise money to support important causes, and it's something she is very proud of in her life. She knows she has a platform, and it's important for her to use that to her advantage.
5. They Met in the Airport
Some people meet in school or at work. They meet when they are out. They are set up on blind dates. They meet on the internet. They meet in so many ways, but this is a couple who met in the most inconvenient place in the world; the security checkpoint at the airport. It was something at first sight because they saw one another and kept looking for one another all the way through the line, and then he came up to her and began talking to her.
6. Instagram is Good to Her
Not only does she have almost a half million followers on the social media platform, it's also how she met the man of her dreams. Well, let's go back a bit on that one. You know already that they actually met at the airport as they were going through the security checkpoint on their way to their respective fights, but that wasn't the end. They didn't exchange contact information other than names, and then they found one another on Instagram in the meantime. That's how they met and communicated with one another until they decided to go on a first date, so we'd like to say that the social media platform is good to her.
7. She's a Nurse
Not through the traditional sense in that she went to college and got a job as a medical professional, but in a sense that she has to nurse her man back to health after his matches. She says it's hard, and that it's difficult to know that his job requires him to put his health, safety, and life on the line all the time, but she is there to help him heal.
8. She's Supportive
She is there for her fiancé every single time, even when she doesn't agree with the fact that he puts his life on the line. She might not like it, but he loves it, and she is there for him. She's not asking him to quit or to stop doing what he loves. She's just there to support him and let him know she's always there to make sure he's got the kind of support he needs to do what he loves in his life.
9. She's A Big Fan
She might be marrying this man who loves her so much, but she happens to be a big fan of his, too. She's there to support him and cheer him on even though it's hard for her to see him being punched and hit and putting his life on the line. She's right there for him, each and every time.
10. She's A Family Woman
If you take a look at her Instagram feed right now, it's so many photos of her daughter that you will instantly fall in love. Not only is her little girl more than adorable, it's very clear that she's a mom first and foremost, and that her family is the most important part of her life, and we can get on board with that one.
Tell us what's wrong with this post? How could we improve it? :)
Let us improve this post!