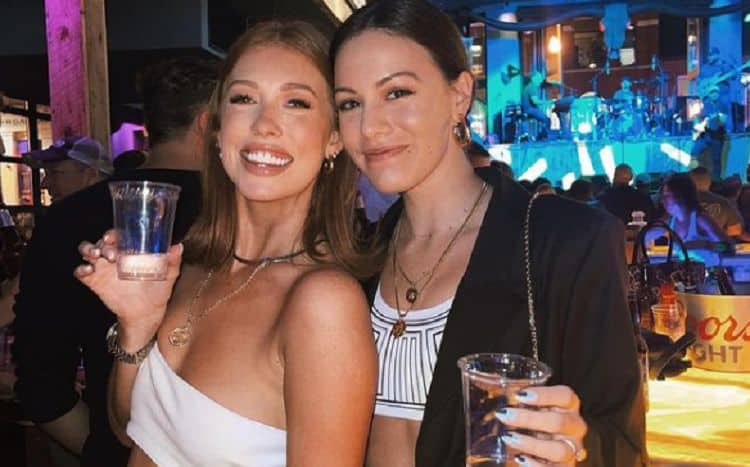 It seems that everyone who was once associated with former "Laguna Beach," star Kristin Cavallari's reality show, "Very Cavallari," is in the news this week. Former employee and current Instagram influencer Shannon Ford was in the press recently after her podcast co-host left the podcast (you know MC Callahan from the Probably a Podcast podcast as well as the Highway where she co-hosted with Storme Warren). Now, it's Taylor Monaco. She was another of the many employees who worked for Cavallari's Uncommon James brand, and she's also in the press because of all that is going on in her life at the moment.
1. She's From Hawaii
It seems that Taylor Monaco has a fun history. She was born on the island of Oahu in Hawaii. However, she did not grow up there. Instead, her family moved to Birmingham, Alabama, when she was a child. She spent the vast majority of her childhood there before she moved to Nashville, Tennessee, in 2015. She was born on August 13, 1993.
2. She's a Model
Before she was a reality television star working for Kristin Cavallari, she was a model. She modeled for brands that worked with the Block Agency, and she did well during her time as a model. She was able to learn the ins and outs of the fashion industry, and that helped her to get where she is today in her own career.
3. She is Married
Monaco is married to her husband, Michael. They were engaged on March 7, 2018. Her friends helped her future husband plan the proposal and make it all happen, even though she was horribly sick and did not want to go that day. She was throwing up and wanted to stay home instead of shopping with her friends, and they forced her to go.
4. She's a Mom
In October of 2018, she and her husband welcomed their little girl. Her name is Walker Rose Monaco. The happy parents are thrilled to have a little girl of their own, and she is clearly the light of their lives. They share many photos of their little angel online, and they are clearly smitten with their little girl.
5. She Planned Her Wedding in Two Months
Taylor Monaco had a big year in 2018. She got engaged in March. She got married in May, and she had a baby in October. It was probably the best year of her life if we had to guess. We assume they got married only two months after their engagement because she was already expecting their baby and they wanted to be married while she still had some energy and wasn't ready to have a baby any day now, but she planned a beautiful wedding in only 8 weeks, and the world was impressed.
6. She Did Not Get a Full-Time Job with Uncommon James
Unfortunately, she was not hired as a full-time employee on the show when she applied for a position with the brand. It was rumored that she was not hired because her best friend is Shannon Ford, and Ford and Cavallari did not get along well.
7. Her Husband is In the Entertainment Industry
Taylor Monaco's husband is also in the entertainment industry. According to his Instagram bio, he is a film director. It seems he's well-known in whatever part of the industry he is in because he's followed by Caroline Bryan, Luke Bryan's wife, and Luke Bryan himself.
8. She's a Dog Mom
In addition to being the mom of a sweet little girl, she's also a dog mom. She loves her animals, and she posts about them often. Not nearly as often as she does her baby girl these days, but often enough that we know she still loves these little doggies of hers.
9. She is a Proud Mom
Since becoming a mother over two years ago, she's shared her daughter's photos regularly on her Instagram page. It's clear she is a proud mom and her little girl is the gem in her life. She incorporates her little girl into everything she does, into all of her stories, and even into most of her own brand collaborations and such.
10. Luke Bryan Got Her Pregnant…But Not Really
Calm down. He is not cheating on his gorgeous wife. These two got pregnant when they were at Luke Bryan's Crash My Playa concert in 2018. They left the concert pregnant with their little girl – unbeknownst to them – and the next time they went they were hoping that they came home with some sunburns and nothing else.
Tell us what's wrong with this post? How could we improve it? :)
Let us improve this post!