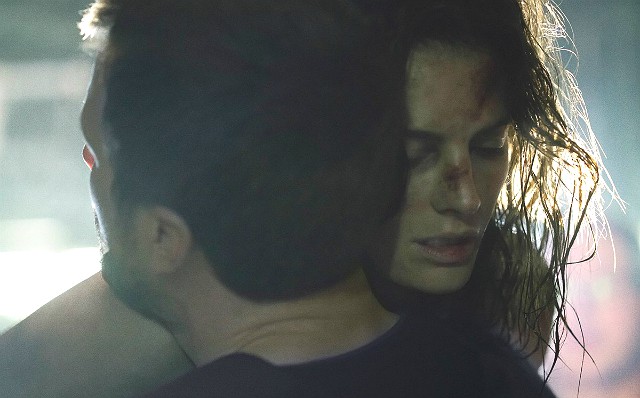 Even if you've never watched the X-Files you know the show deals in the creepy and the unexplained. If you're a fan – especially of its first five seasons – you know just how deliciously disturbing that show's imagery could be. This 1st official Sony AXN trailer for Absentia definitely falls into that X-Files arena!
Are you freaked out or thrilled? Perhaps it's a little of both – which is completely appropriate!
Absentia, which stars actress Stana Katic, has been building excitement for her fans for months – sight unseen. A few got to see it a couple of weeks ago when it premiered at the the recent Monte Carlo TV Fest. Now that we've all gotten a glimpse of the series, it's obvious why it got that top spot! The 1st official Sony AXN trailer for Absentia leaves no doubt that its ten episodes are going to be one heck of a ride!
What We Learn From the 1st Official AXN Trailer for Absentia
For fans of dramatic thrillers, sci-fi, mysteries and conspiracies, Absentia is going to be right up your alley! However, as that wedding ring and photo of the family suggests, the show is not just about the freakishness of the situation. The words that were flashing in the trailer make this point more explicitly.
Her past
Her family
Her duty
Her love
She should remember
ABSENTIA
Coming soon
Note that remembering what happened to the woman in the tank is last on the list. Clearly Absentia is not going to be all about the mystery. It more about FBI Agent Emily Byrne (Katic), the woman to whom this has occurred. For instance, imagine having this baby in your dreams…
Please, help me see more of this memory. ? #ABSENTIA @Stana_Katic #mothersday pic.twitter.com/6VdLB34McW

– Absentia (@AbsentiaSeries) May 14, 2017
…and then waking up to this reality. Her baby boy is now a full-grown boy.
Big Patrick AKA Patrick @heusinger and Little Patrick AKA Patrick McAuley doing Patrick things on set! ?? #Absentia pic.twitter.com/Pgx8Tzh8bp

– Absentia (@AbsentiaSeries) June 28, 2017
(Patrick Heusinger plays Nick Durant, Emily's husband from before her disappearance & Patrick McAuley plays her son Flynn.)
Not only has Emily's baby grown up without her, but the only mother he knows is Alice, Nick's new wife (Cara Theobold). As you can see below, this is going to get complicated. Alice clearly loves Flynn as her own child.
Flynn is pulled back by Alice as the door slams. She holds his eyes a beat, searching for words. ? #Absentia @CaraTheobold #tv pic.twitter.com/315iOG7TCm

– Absentia (@AbsentiaSeries) June 12, 2017
Like the best of this genre – shows like The X-Files, Fringe, or Orphan Black – it's the human stories that anchor the wild and at at time scary plots.
Life Underwater….
However, like the above-mentioned shows, the mystery in Absentia is intense and intriguing. Seeing Emily in that tank of water is surreal! Especially given this Absentia synopsis.
An FBI Agent tracking a Boston serial killer vanishes, and is declared dead. Six years later, she is found in a cabin in the woods, with no memory of what happened during the time she went missing. She comes back to a husband who has remarried, and whose wife is raising her son. She will have to navigate in her new reality, and she will soon find herself implicated in a new series of murders.
There's no mention of her being found in a tank of water – just the cabin. Could she have been held in a water tank with some kind of suspended animation and then let go? Maybe…. It could also end up being a metaphor for her lost memories – or perhaps it's a blend of both?! After all, Emily being underwater is a major theme of the Absentia poster.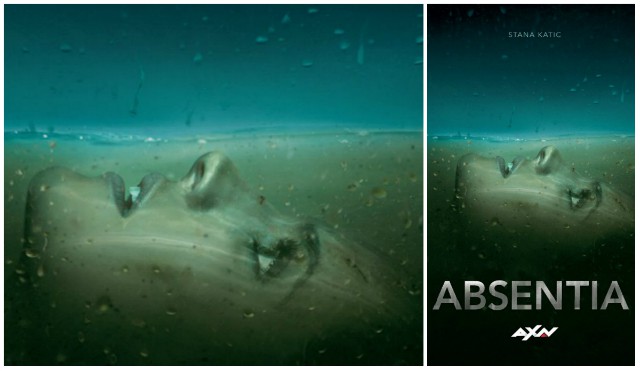 However, there's a serial killer in this show's mix. Why would he or she not kill Emily while killing everyone else? Unless…what if the serial killer had nothing to do with Emily's disappearance? That would make two different mysteries!
It's only 35 seconds and yet the 1st official Sony AXN trailer for Absentia brings up so many questions! If you have any theories about what happened to Emily, please leave them in the comments. I'd love to know what people are thinking!
Absentia is Coming – Soon!
All we need now is for Absentia to get its American pickup. It's already set to go in Spain, Portugal, Poland, Bulgaria & Romania via Sony's AXN channels. It's also set to air in Russia on Sony Sci-Fi, and on Canada's Showcase network. Canada and Russia…there's probably something I could say about American demoralization – but I won't.
Instead, I'll post this encouraging tweet from @AbsentiaSeries
To clarify, those are just countries that this outlet chose to include. #Absentia is being sold everywhere, stay tuned. ? https://t.co/0TtJ3ioPKe

– Absentia (@AbsentiaSeries) June 29, 2017
Two Networks That Are A Great Fit: BBC America & A&E
BBC America
Britain is also waiting for Absentia. Maybe something will be struck with the BBC and we'll get it on BBC America! After all Orphan Black is in it's final season, so there's some space for it.
What makes Absentia even more of a good fit is that Sarah Barnett, the president of BBC America, understands the power of fandoms. In an extensive interview with Vulture she spends some time talking about how fandom plays into their overall strategy.
– BBCA comes from a place of a quite broad entertainment philosophy around what its shows can be. So we have anything from Graham Norton to a car show to a nature documentary to all sorts of drama. Sci-fi, but also exquisite character pieces. That's quite unique about BBCA.

And for us – certainly for me – it's been a case of looking at what works, looking at what doesn't, and looking at the incredible fandom that accrues around some tremendous programming.
With Katic as its star, Absentia has a world-wide built-in fandom. Adding to that, Theobold has been called, "TV's rising star" by the UK 's Independent. She has a definite British and American following from Downton Abbey and the current sci-fi series Crazyhead (E4 & Netflix). When you look at what Barrent says she looks for, Absentia seems like a perfect fit for them.
Why A&E
Yes, I know A&E has developed a reputation for reality television. However, when they go scripted they tend to go for high-level drama about mysterious or downright scary situations. Case in point, they just wrapped up the critically acclaimed Bates Hotel. A&E also brought in the award-winning French series Les Revenants (The Returned). This is a good American network (They're half-owned by Disney) for a show with a European feel to it.
The other thing that makes A&E an interesting choice is that A&E has A&E UK which is partnered with Britain's Sky network. That gives A&E the same incentives for pickup as the BBC/BBC America! Either of these networks would be great!
The Wrap Up
Absentia could fit well on other US networks and outlets as well. It's doubtful to be suitable for American broadcast stations though. Depending on the kind of content rating it gets it could connect with audiences of the USA, FX, or TNT cable channels.
Starz, the home of Outlander & American Gods instantly comes to mind in terms of the premium cable channels. Any of the streaming platforms – Netflix, Hulu, or Amazon – would do well also. All would instantly see a rise in their subscriptions!
They do say patience is a virtue. After seeing the 1st official Sony AXN trailer for Absentia the waiting for the pickup announcement just got harder! I do think it will be picked up though. It has too many good things going for it to not be! Take this trailer as a good sign that Absentia is going to be aired in more English-speaking countries – like Britain and the USA!