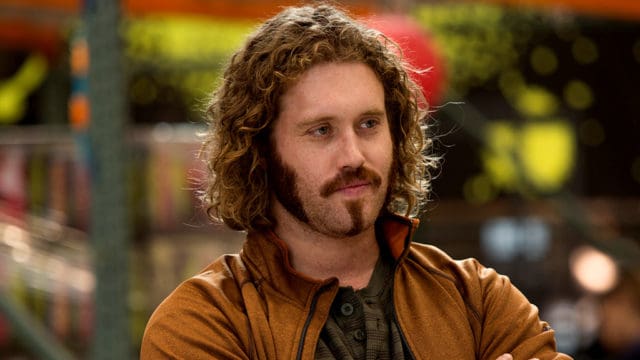 T.J. Miller is not having a good year. Just lately he's been federally charged with calling in a fake bomb threat, which, if you've been up on your current history in the past couple of decades, is not a good idea in this or any other country. Simple the word 'bomb' carries a high level of risk when speaking it aloud in a public space. On an airplane it's more than enough to get a person looked at twice and possibly thrown off of the flight if they use it in a certain way. The mere utterance of a word causing mass hysteria is only part of the point however.
Miller claims that he only had a glass of red wine before boarding an Amtrack train bound for New York, where he was forced to depart after being found to be very intoxicated. He initially called in a bomb threat on a woman in what seems to be retaliation for something that hasn't been defined yet, but after his first call he changed the information concerning the color of her clothing and her baggage. His claim was that she kept checking her bag without taking anything out or putting anything in, and that she wanted to leave the train without her bag. Now obviously that would have been highly suspicious in and of itself for many people, but as Miller had been drinking, and due to the fact that he called about a different train that he was not on. This could have been chalked up to intoxication, which is still a problem, but it still managed to inconvenience a great many people and all for nothing more than the fact that he was quite drunk and seemed to be a bit leery of a single individual he didn't even know.
Following the allegations of sexual harassment/misconduct and his mutual release from Silicon Valley Miller has not been having a good year so far. Even with the support of his wife and those that make up his fan base he seems to have been on a downward slide thus far in 2018 that isn't getting any better. When asked if he suffered from any mental illness he said no, but when asked if he was intoxicated during the call he also said no, which proved to be a lie. Miller was intoxicated enough that he had be escorted off of the train in New York. The bomb threat only makes things worse, as it does carry a five-year prison sentence. He was released on a $100,000 bond however, which seems standard for celebrities that break the law. If that seems cynical it is indeed. Miller is a funny and engaging actor, but he's also human like the rest of us and despite making mistakes this isn't his first run-in with the law, as he was released on his own recognizance in 2016 after being accused of battery.
It's sad to see a celebrity go downhill in any way, but if the same laws don't apply to them and aren't used to teach the same lessons then they mean little to nothing to anyone.