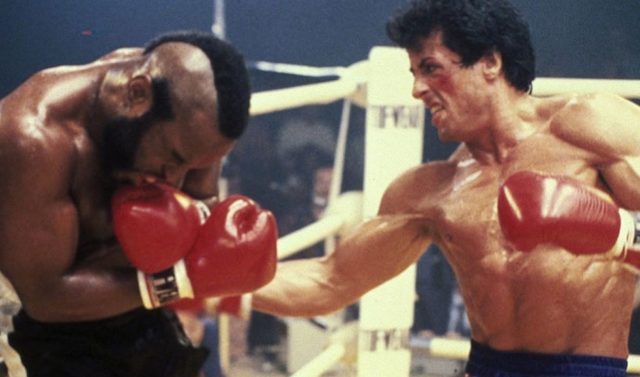 While I'd rather not get into too much body analysis, if you had to pick a Rocky where Sylvester Stallone has the best body it comes down to Rocky III and Rocky IV, hands down. While in Rocky IV he's a little more jacked and "muscular," Sylvester Stallone is obscenely shredded in Rocky III. I mean it's the the point of nausea. Looking at him you might think his body fat is in negative territory if that were even possible. Turns out that the lengths Sly went to achieve that physique were not only extreme, but incredibly dangerous.
Stallone recently shared an unseen photo from Rocky III that features him doing a handstand in the corner of the ring. People out there, DO NOT try this at home. Check out what Sly did to get to a body fat % of 2.9.
During the period I only ate very small portions of oatmeal cookies made with brown rice and up to 25 cups of coffee a day with honey and a couple of scoops of tuna fish. Sounds incredible right? At the time my body fat got down to 2.9 which is a really dangerous level. I may have looked pretty good on the outside but inside it was very dangerous thing to do.
I think he probably left out the part about doing steroids but we'll take this quote at face value. 25 cups of coffee a day? There are no words.
Check out the photo below: