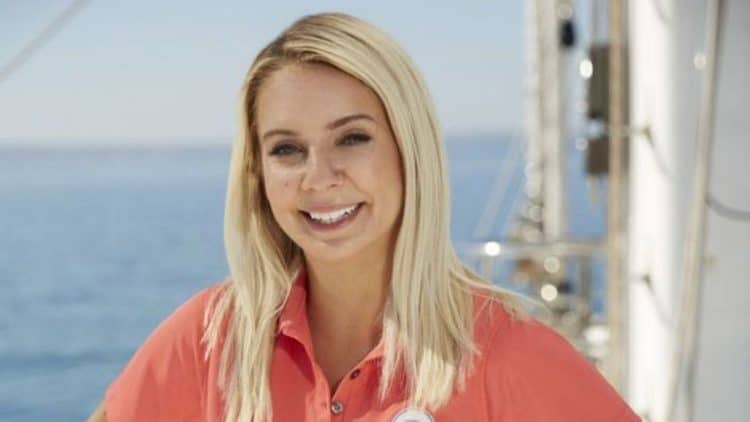 Any time a reality series is given a spin-off, you know the show is doing some serious network. So when Bravo's Below Deck spawned not one, but two, spin-offs, it was clear that the brand was booming. The latter of those spin-offs, Below Deck Sailing Yacht is currently in its second season and viewers are still trying to see if the show can live up to its expectations. season two deckhand Sydney Zaruba might just end up being a huge part of the reason why people tune in this season. Although there's no denying the fact that Sydney is good at what she does, she may find herself getting caught up in some work related drama that could derail her focus. Here are 10 things you didn't know about Sydney Zaruba.
1. She Is Been Around Boats Her Entire Life
When it comes to that yacht life, Sydney isn't new to it – she's true to it. She has literally been around boats for her whole life. When she was born, her parents were living on a boat. Her family also owns a boat business which she helps run. Essentially, being a deckhand is light work for her.
2. She Is A Blogger
As someone who has spent so much time around boats, it goes without saying that Sydney enjoys traveling and visiting new places. She has turned her wanderlust into a passion for content creating and she is the founder of a blog called Boho Travel. In addition to travel, she also posts about other lifestyle related topics.
3. She Is A Travel Agent
Sydney likes to have a good time, but she's also all about her business. Not only does Sydney enjoy sharing her own travel stories, but she also enjoys helping people create memories of their own. Sydney is currently a travel agent for a company called Explorateur Travel. Through her work, she has helped people visit places all over the world.
4. She Attended The University Of Florida
Sydney is a Florida native and she decided to stay in her home stage for college. She studied at the University of Florida where she earned a bachelor's degree in broadcast journalism. On top of working on boats, Sydney also has experience doing social media management.
5. She Has A Large Social Media Following
Apparently, Sydney's social media management skills have come in quite handy for her own personal social media presence. She currently has more than 16,000 followers on Instagram and it appears that she's had many of them before being cast on Below Deck Sailing Yacht.
6. She Supports The Black Lives Matter Movement
Sydney isn't shy about using her platform to speak out and raise awareness about the causes she is interested in. She has shown her support for the Black Lives Matter Movement and she also participated in a virtual show of solidarity called Blackout Tuesday which took place in June 2020.
7. She Lived In Italy
On top of all the traveling she's done, Sydney has also lived in Florence, Italy. She initially fell in love with the city when she was visiting while studying abroad. After graduating from college, she decided to move their full-time. She only planned on staying for a few months, but ended up staying a year after being offered a job. While living in Italy, she got the chance to travel to different places in Europe.
8. She Is A YouTuber
Sydney has a YouTube channel which corresponds with her blog. She posts a variety of videos from vlogs to travel tips. Although she has less than 300 subscribers, her channel has gotten more than 10,00 total views. There's no doubt that her numbers will increase once more Below Deck fans come across her channel. Unfortunately, it's been almost a year since she's posted anything new.
9. She Hopes To Inspire Others
Sydney is truly living her definition of the dream – and that's not something many people can see. She gets to do something she loves every day, and now she's even becoming a reality TV star in the process. Through all of the things she's accomplished, she hopes to inspire others to make the most of everything life has to offer.
10. She Likes Taking Pictures
Taking pictures is one of the best ways to make capture special memories. Since Sydney loves to travel, it's only right that she have plenty of photos to go along with all of the places she's been. As a content creator, Sydney loves to capture photos from her adventures and she's pretty good at snapping great shots.