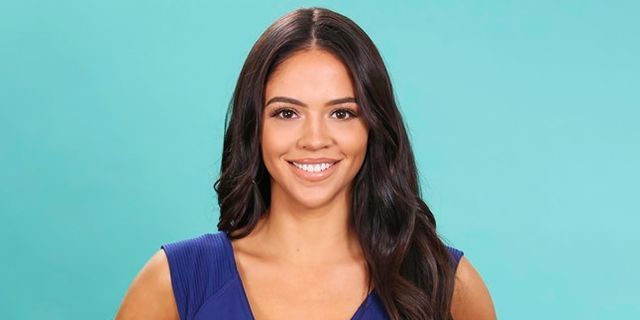 Bachelor Nation fans love when the show starts again for the first time in months. There's something that we just cannot get over when it comes to finding love in a strange setting. Perhaps some still tune in to see true love prevail, but the honest truth is that most of us tune in solely to see who is a train wreck, what kind of mess this is going to be, and how many ways the show can disguise "Gainfully Unemployed," as something creative in their descriptions. We are here for it. Sydney Hightower is not a household name — and she may never be depending on how the 24th season of the franchise ends — but you might want to get to know a bit more about the woman who is vying for love with 29 other women.
1. She's A Lover of Love
Who doesn't love love if they're going on the Bachelor to find it for themselves? This is one woman who is a big fan of love and all that it entails. To be completely honest, she's a woman whose favorite holiday is Valentine's Day. Typically, that's not a holiday anyone loves. It's a little overrated, it's a little busy, and there is nothing we dislike more than trying to go to dinner or make plans on the actual day of Valentine's itself. Rush us much, restaurants with turnover rates?
2. She Was Seriously Involved
For two years, she was with a man who she felt was the one. She says herself that things were very up and down for them throughout the entire relationship, which should be a sign that he is not, in fact, the one. But it did not last for her and things ended just a few months before she decided to take her turn on the show to find true love.
3. She's Recently Heartbroken
Her last relationship did not end on her terms. It did not end because she wanted it to. In fact, she was done with her lease and they were talking about moving in together, making plans to find an apartment, and she was packed and ready to go when he told her that it just was not working for him, he could not do it, and it wasn't going to be something he could move forward with. Wow, talk about heartbreak.
4. She's Active
She's only 24, so we believe that she has the energy to be as active as she wants, and we are not disappointed by this. She loves to hike and to dance. Things like this make her feel good, and we could not agree more. There is nothing more important than moving your body every single day for your own peace of mind, your own good health, and your own sanity. We love it, and we know that she's doing herself a favor by also loving those activities.
5. She's Got a Sweet Tooth
Who doesn't, really? She's looking for a man who will take part in her sweet tooth situation with her. She loves to spend time in the kitchen baking all the goodies, which means that she's good at what she does, and she is ready to share. Her favorite guilty pleasure is to get in a good work out and then come home and eat something she's baked recently. We feel that.
6. She Loves to Dance
Dancing is something she's not only fond of, but good at. She loves to take herself onto the dance floor on salsa night and show off her stellar moves. We believe she must have learned those growing up to be so good, but she claims she's very good at it and will take on anyone on the floor.
7. She's Got a Familiar Face with Her
It turns out — and this is not something that she's said herself — that she knows one of the women on the show with her. Although, we don't know just how well they know one another as neither has addressed it just yet. She and Hannah B. actually went to the same high school in Alabama, graduated the same year (2013 for those interested), and they even went to the same college. But, neither has addressed this connection yet, so they might not know one another. Maybe their high school was a big one?
8. She's Got a Reputation Already
It turns out that she's got a reputation as being one of the best kissers on the show according to Bachelor Peter. When the women were introduced, this was something that was brought up by him. This tells us that he has been around the block a time or two with some of these women, and he's got his sights set on her. We don't know yet what this means, but it's probably something interesting to say the least.
9. She Says What Everyone Else is Thinking
Chris Harrison pointed out that sometimes you don't always get what you see with some of the women. He says, for example, that Sydney seems like one of the sweetest, kindest, quietest women on the show — at first. But, it turns out she is the one who does the thing that everyone either really loves or really hates. There is little in between. She is the woman who says exactly what everyone else is thinking in the moment even if it's not entirely appropriate to mention it.
10. Her Instagram is Small
We aren't even talking about her followers, either. We are talking about the number of photos she's got on there. She's got very few photos, and almost every single one of them is a solo photo of herself. She's got just a few of her with the Bachelor himself, and she's got one of herself with some of her girlfriends. Otherwise, her photos are all Sydney, all the time. They are, however, apparently professional photos. Otherwise, she's magic with a tripod and a remote. There's very little personal information about her on her own page.
Tell us what's wrong with this post? How could we improve it? :)
Let us improve this post!