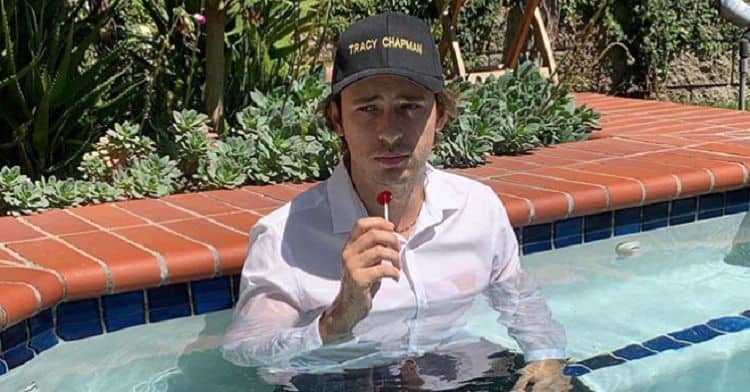 DJ Flume is a household name in the world of music getting recognition from all over the world. He has a collection of awards and accolades to highlight his success in music. The DJ, music programmer and producer broke into the limelight back in 2010 under the initials HEDS. He produced two house music hits, "Fizz" and "Flow" which did relatively well in the international music scene. Since then, he has done lots of projects that have done well both locally and internationally. DJ Flume's work has led to him winning many awards in addition to performing in huge concerts all over the world. According to DJ Magazine, as of 2017, the star was ranked number 87 in the list of top 100 DJs in the world. The celebrity has however come under fire recently after doing a sex act while performing at the 2019 Burning Man Festival in Black Rock City, Nevada. An Instagram video shared by the star's girlfriend Paige Elkington has gone viral. It shows the DJ performing oral sex on an unknown lady causing outrage all over the world. Here are several things other facts about the star.
1. His early life
According to his Wikipedia profile, DJ Flume was born on November 5, 1991, in Sydney, Australia. His real name is Harley Edward Streten but opted to take up Flume as his professional stage name. Flume's father is a professional filmmaker and producer while his mother is a retired teacher who now works in the horticultural sector. He was brought up in Northern Beaches in Sydney alongside his younger brother and sister. The DJ further received his primary education at Seaforth Public School before joining Mosman High School for his secondary school education. He graduated from high school and joined St Augustine's College where there are no records of whether he graduated of dropped out. Flume is said to have started making music when he was only 13 years using a simple production disc that was held in a cereal box.
2. His Relationship Status
DJ Flume is currently dating Paige Elkington, who is a model, writer, and actress. She is credited for Flour Baby and Jessica short films as well as the career-hurting video of the DJ's sex act on stage.
3. His social media presence
The DJ is a very active individual on social media with highly followed accounts on diverse social media platforms. He boasts of about 1 million followers on his Instagram account, 492.8K on Twitter and a whopping 1.3 others on his Facebook page. He also owns a YouTube channel with over 1.4 million subscribers.
4. His albums
DJ Flume has so far produced two albums that have done well in the local and international music scenes. In 2012 he released the "Flume," and "Skin" in 2016. He has also released several extended plays: "Lockjaw," (2013) "Skin Companion EP 1 & 2," (2016 and 2017) and "Quits" (2019) in addition to recently dropping a hit mixtape namely "Hi This Is Flume."
5. Awards and Accolades
DJ Flume has been a shining star in both the Australian and global spotlight for some time now. He has gone on to bag multiple awards and nominations in different stages. Some of his notable nominations and won awards include the following:
In the popular Australian AIR award, 2013 edition, DJ Flume was the man of the moment, dominating the awards. He won the awards for the Best Independent Artist category, Best Independent Album and the Best Independent Dance/Electronica Album for his album "Flume." His single, "Holdin On" was also nominated in the Best Independent Single/EP category but bagged the award for the Best Independent Dance/Electronica Single.
The album "Flame" was still nominated in both the APRA Music Awards and ARIA Music Awards, 2013 and 2014 editions where it bagged lots of awards in different categories. His second album also did impressively in these awards bagging several accolades in diverse classes.
The highlight in DJ Flume's career is probably receiving his one and only Grammy Award for his album "Skin" in the Best Dance /Electronic Album back in 2017. The album also earned a nomination to the Billboard Music Awards.
6. His popularity
Flume is a celebrity as supported by the hordes of adoring fans that follow him on his social media accounts. According to Famous Birthdays, he is ranked on position 32 in the category of most popular DJs. In the category of DJs with whom he is in the same age group, he appears third and is also in the list of most famous people.
7. His hobbies and interests
Just like his career dictates, DJ Flume is a party animal, and he does it long and hard. He flaunts multiple photos on his social media accounts in parties and concerts. He also loves vacations and wild adventures, as seen on his Instagram account. The star also seems to have a soft spot for sports-fishing and swimming.
8. He is a dog person
DJ Flume seems to be in love with dogs. In his social media, a significant share of his posts consists of his dog's photos. Furthermore, in most of his adventures, he does not leave his lovely pet.
9. His net worth
DJ Flume has risen steadily to the top over the years in his music career. His works have done well worldwide, topping charts in the USA and Europe. Flume has further sold millions of records and performed in the world's greatest platforms. As of 2019, his net worth hovered around $12.5 million according to Celeb Wiki Gossip.
10. His scandals
DJ Flume until recently had kept a clean record with no known scandals or frictions with the law. However, his clean record has been dented by his indecent behavior on the Burning Man Festival in Nevada. The star disregarded the morality of his actions and went ahead to perform a sex act while performing on stage. He has henceforth suffered an intense online onslaught from all over the world. He has, however, come out to apologize to even his mother.