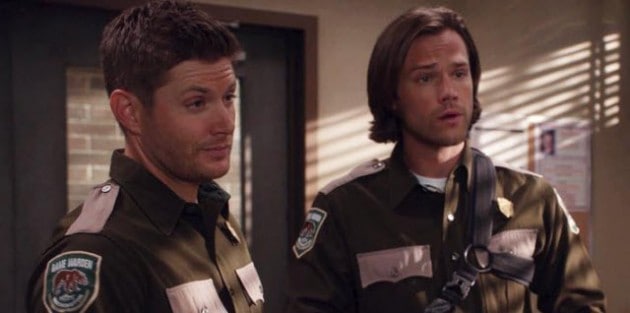 Writers refusing to trust their audience is a personal pet peeve of mine. I don't see the point of holding the hand of show watchers because 99.9% they don't need the assistance. Supernatural does this all the time (and to be fair, most network shows do this) and it really, really annoys me. They did it more than a few times as they dumped expository all over us.
But in the face of such a strong episode, it's a small and ultimately meaningless complaint. This episode had the strongest writing of the season, in both dialogue and plot. There was a distinct lack of clunkers in this episode; usually Supernatural is good for at least five or six. The characterization was consistent, and also very revealing. For the first time in a while I'm really happy to dive into a Supernatural episode.
I want to start with Dean, and with good reason: he's made a near-wholesale change in his personality and I love it. The Winchester MO (ie the writers not being ready/capable to creating tension other than the boring and nine seasons old Winchester angst) has been to hide things from one another until the dam finally bursts blah blah blah. But Dean's honesty (and Sam's in turn) allows for a deeper understanding of the two characters. It's almost as if Dean was cleansed by his time as a demon, or, that his demoness instilled in him a much healthier attitude towards his past. That give-a-crapness of Demon!Dean has rubbed off his mortal counterpart and I (we) can only hope that this lasts more than one episode.
I also have to give the writers credit for long-term planning, as this episode has conceivably been in the works since 2012. Kate's first appearance in season 8 seemed to many as a throwaway plot to fill an onerous 22 episode order. But to have it come back in such a way that creates a powerful parallel between the Winchesters is really impressive work. I really, really, very much hate creating characters just for plots sake and then discarding them; I find it cheap and lazy. Burn Notice, if I may tangent, did this all the time. They'd bring in Tom Card or John Barrett or some other schmuck and just use him/her for a few episodes before killing them off. When they stuck with a character, let him/her breathe, it worked out so much better. Carla, Victor, Simon: all great. Barrett and Card: not so much.
The use of Kate in this way made it much more powerful than some random doing the same thing. You bought her explanations and actions and had a real opinion on her fate because you already had some knowledge of her. It reduced the need for exposition and allowed Supernatural to show instead of endlessly tell. So, four for you, Glen Coco.
Part of what makes a show good is random character moments; certain actions or bits of dialogue that reinforce character characteristics (hell yeah) and reveal interesting and rewarding stuff. The dialogue between Sam and Dean after they kill the two werewolves is near-perfect; a throwaway joke by Dean and a look by Sam say more than any angel/demon plotline ever could. This is the kind of stuff that brings you back, makes you want more; watching Sam and Dean interact in an honest way is the whole reason we're here, or with any other sort of show or book or film.
This episode was truly good. Not just Supernatural-good, but good good. I am so happy with this season; maybe there is something new in this show. Maybe this will be the season that it's disparate parts finally come together. I am hopeful, as always.
No Castiel this week, which wasn't unwelcome. He didn't really fit into the storyline and they made a good decision by not trying to shoehorn the overarching plot into this standalone episode.
Grade: A-
[Photo via The CW]