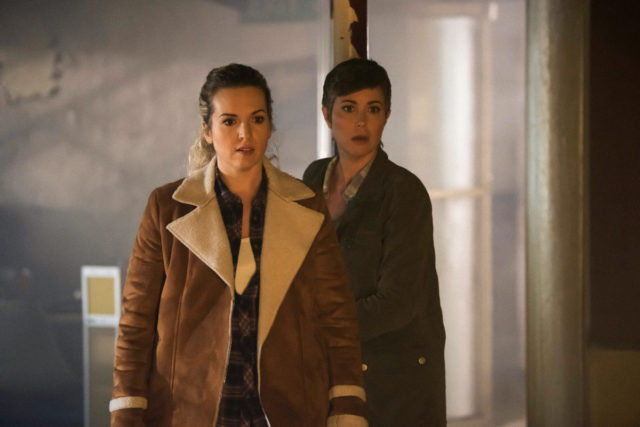 Carry on my wayward….sisters. I love the title, but I was hoping for something a little more silly like "Sisterhood of the Traveling Monster Hunters." Kidding, of course. Supernatural fans have long been hoping that they would get some sort of spin-off in such a rich universe, and many fans have been clamoring for this exact story within one. I haven't been caught up with Supernatural since the beginning of the run 13 years ago, but I've still seen every episode, including the previous, extremely messy spin-off attempt. Five years was absolutely worth the wait for Wayward Sisters, which proved that the Supernatural universe was indeed capable of creating an interesting spin-off, and that perhaps the CW should continue listening to the fans about what kind of content to produce.
After the Bloodlines debacle, which still makes me cringe a bit when I mention it, I have to admit that I was initially skeptical of the next spin-off. When fans would say that Jody and her gang of girls should have their own spin-off I would agree, but I honestly had no idea how it would turn out. Sure, it was great to see Kim Rhodes when she would pop up on the show, but I couldn't get this thing to materialize in my head properly. Then it happened, and honestly I was blown away. Each character fits perfectly into the scheme of the show. Jody's maternal character fit perfectly in a story centered around her and her new family. Briana Buckmaster returned as Donna Hanscum, who is the Dean to Jody's Sam. She proved proficiency for hunting, proclivity for different types of weapons, and was hilarious while doing it. Supernatural doesn't work without a little fun, and Donna is a blast! Alex is a balanced character with her own career but still capable in the field. She brings (additional) emotional depth to the group. Patience seems a little less certain of her role in the group, but I can envision a show in which her visions bring them cases and alert them to happenings around them (or maybe if their friends Sam and Dean are in danger).
Of course, the real success of this spin-off is resting on the shoulders of the clear breakout star, Kathryn Newton. Claire Novak's storied Supernatural history makes her a prime target for having a hunting career, but it's Newton who really sells the role. Newton's portrayal showed depth, conflict, and the ability to fight with ease through exciting and dangerous situations. Newton has been in several critically acclaimed films and shows over the past year or so (Big Little Lies, Lady Bird, Three Billboards Outside Ebbing, Missouri) so it would be smart to lock her down into this series. Don't get me wrong, of course, because all of the pieces they've assembled work very well together as a unit, but Claire Novak's history makes her the perfect character to include, and Kathryn Newton's rich, strong portrayal pays off that decision.
Here are a few other thoughts:
I was disappointed that they killed off Kaia, as I was hoping she would be a sister. Then, I saw alterna-Kaia come out of the alternate universe portal. This seems like a much better way to include her, especially given the kinship that Claire felt with her. I wasn't sure that I saw a purpose for a dreamwalker in the girls' home, but making her the villain is far more interesting.
This is a longshot, but has anyone talked to Samantha Smith about joining this show? Sure, Jody is definitely the mother figure to the girls, but adding Mary (in my mind) would just make it richer. Several times during the episode I thought "Mary would be a great fit here." Just throwing that out into the universe.
"Don't tell me it tastes like chicken." "No Sam, it's a lizard. It tastes like a lizard." With all the spin-off talk, I mustn't forget how much I love Sam, Dean, and the flagship show.
Honestly, I was blown away. My years of getting my hopes up had me approaching Wayward Sisters with caution, but I was quickly reassured and then impressed. Supernatural assembled the perfect cast of characters, a strong group of actresses, and my hope is around upfronts time we'll be finding out exactly how much more of the sisters we'll be seeing. Hopefully a LOT more. Get picking up, CW!
What did you guys think? Did you like Wayward Sisters? Are you hoping it's picked up to series? Let us know in the comments!
Supernatural airs Thursdays at 8/7c on the CW.
Supernatural Season 13 Episode 10 Review: "Wayward Sisters"
Summary
Jody, Claire, Donna, Alex, Patience, and Kaia work to save Sam and Dean from an alternate universe on this week's strong, possible spin-off episode of Supernatural