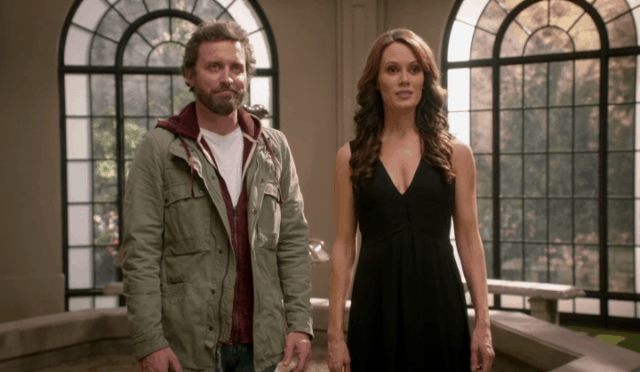 So, it's over now. Another season of Supernatural down in a ride that keeps on chugging. And honestly, if you need proof of how the show's aged, then you need to look no further than this episode. It's something new and something old(nothing blue). This episode takes me far back into the days of season 1 where the biggest thing to worry about were Vengeful Spirits and occasionally some other crazy things. But was it worth it, really? I kind of see what the writers wanted to do here. They wanted to give us a throwback episode and give a worthy conclusion to the main struggle with Amara. Had they done both things differently, things would have been very different.
The episode begins exactly where the last one left off. God is dying and there's nothing they can do about it. Crowley wants to enjoy his last moments but wait! Cass is alive! How unsurprising. I actually called this one. But of course, they have other problems to worry about. Apparently, Amara is killing the sun. Later on we found out it's Chuck's death that's causing it. So as soon as everyone finds out, they're just like lie back and chill. Now I would have liked the pace to be picked up here but instead we cut to…
London. Seriously? When has Supernatural ever shown us a country other than America? This was the first omen of things getting bad. So there's this new character who's apparently British(evil) and a spy(evil we get it) and she has creepy photos of Sam and Dean(*facepalm). Now you might ask, why is the show showing this to us in the finale? Excellent question. Tell me when you have the answer.
At some point Sam convinces Chuck to agree to let them kill Amara. Well, it's not like they have a choice do they? Everyone's all for it but they need souls. That's the something old part. What does one do in a situation like this? A trip to a haunted house of course. So, they go there, Dean does a cringy impression of Rowena, more terrible dialogue, emf sounds are made and a bunch of souls are caught.
By the way, during all this Amara is getting all touchy-feely. At this point, you know something's up. Meanwhile, the souls aren't enough and Crowley's a useless git. Billy to the rescue! The Billy that we all hate helps Sam and Dean for no reason except for shits and giggles. This brings a whole new meaning to 'women as a plot device'. But at this point, Rowena thinks that the time is ripe to tell Dean that he's gonna be a suicide bomber. I'm pretty sure Dean didn't have that on his bucket list.
Dean agrees. They visit his mother's grave. More cringy and pointless dialogue follows. Everyone thinks Dean will die. Except for us, we've been watching this for 11 frickin' years. Dean doesn't want this show to turn into a chick flick, but he doesn't know this season will get a chick flick-esque conclusion.
So, Dean gets popped to Amara and instead of yelling something appropriate and blowing himself up, he thinks it's prudent to talk. Yay! But couldn't they have talked earlier? After some talking with Dean she drags in God. Then they talk more and kiss and make up. Wait! Why the frickin' hell didn't they do this earlier? This makes no effin sense. Despite that, I think it's an excellent idea. It definitely totally threw me off. It's a novel way of getting rid of a villain: turn them into a force for good. It also adds a breath of freshness to the show. So the sun is saved, the world is saved, Chuck is saved, everyone's saved. God decides to take a vacation with his sister. All's well and good. Except for that Evil British Chick hangin' around.
So, the setup for next season is that Sam and Dean have pissed off the Men of Letters and they must be immediately put under arrest(haha yeah right). Sam possibly gets shot but we don't get to see it. I wouldn't worry too much really. Before going away, Amara said that she'd give Dean what he wanted the most. He wants Sam and he wants Cas to be his lover(ignore that last bit). So, even if Sam is shot, he'll probably get insta-revived. After all this is Supernatural folks, and these are Winchesters.
Oh and Deanmon is back. Wait, no Dean's mom is back from the dead. Guess one of the showrunners decided "You know what? Fu*k it! Everyone's back. Let's bring back everyone this season." Let's wait and see how that turns out.
Supernatural returns this fall on The CW.
Supernatural 'Alpha and Omega' Review
Summary
Supernatural's Season Finale makes absolutely no sense, the dialogue is far too cringey and too much time is spent on setting up next season. The idea of giving us a throwback episode and an epic finale turns into something unrecognizable and totally unlike the show. Despite that, the conclusion to the God vs Amara spectacle is a satisfying one.