After last week's episode of Supergirl, I found myself really starting to take notice of how nicely Season two has been shaping up. From Tyler Hoechlin's performance of Superman to the reveal of Lillian Luthor running Cadmus, I'm digging it so far. Episode 6 "Changing" went a long way in making this concrete.
One thing Supergirl has done well is balancing the action, drama and humor with ease and it is on full display in this episode. Chris Wood and Benoist continue to play well off each other as aliens from similar but different planets. Whether the scene is humorous ("You have to train with me now. . .tomorrow") or dramatic ("I don't have this innate desire to go leaping into trouble") their scenes really help establish Mon-El's story in being new to Earth as well as the Krypton / Daxam rivalry.
With Lost's William Mapother making his debut as Superman villain Dr. Rudy Jones aka Parasite, the episode took on a notable horror type vibe which really made the episode stand out from the others. While more time could have been spent on Rudy's story and some of his motivations are heavy handed (global warming, climates), director Larry Teng nails the action beats of the episode and the dramatic moments as Jones makes his mutation into the monstrous character.
Speaking of dramatic and emotional moments, Chyler Leigh is the standout of the episode. As Alex struggles to come out to family, friends and reconcile her feelings for Maggie, Leigh channels the emotions into heartbreaking scenes. Kudos to Teng and a great teleplay / story by Greg Berlanti, Andrew Kreisberg and Caitlin Parrish for helping establish Alex's coming out and story as a highlight of the season thus far. I really felt for Alex and she reflected on her life and after being let down near the end of the episode.
Can we talk about the special effects for a minute? I was absolutely outstanding at the transformation of Parasite, Kara's wall flip in the beginning of the episode and the third act battle involving Parasite, Supergirl and Guardian. You can really tell they spent the time (and money) to develop these effects well and I cannot wait to see how this will effect the mega crossover slatted for next month. Particularly, I am just as impressed with Parasite's look in here as I was with Grodd and King Shark in The Flash.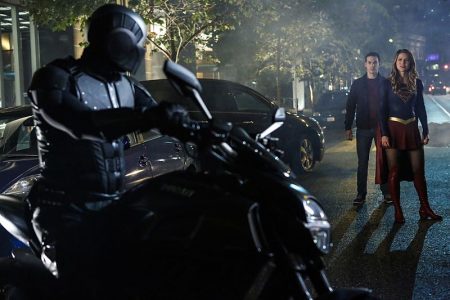 As for the introduction of James Olsen's Guardian – it was a little forced here especially with so many story threads (Alex's coming out, Parasite, Mon-El, Martian Manhunter's blood transfusion, etc) emerging or continuing on from previous episodes. That said, this update to the Olson character is very intriguing thus far, especially given the suit's tech upgrades courtesy of Winn and Olsen's desire to be a hero along with his caped friends. Here's to hoping they ease the character in with future episodes and not force him in.
Other thoughts and favorite quotes:
Really Maggie?
I want to party with buzzed Kara and Mon-El.
Jeremy Jordan. Please continue to bring that emotion you're known so well for.
Still iffy on the Cadmus storyline, but curious to see how it will evolve.
[Photos via The CW]
Supergirl Season 2 Episode 6 Review: "Changing"
Summary
Kara, Mon-El, and Jimmy battle Parasite together as Alex struggles with coming out to her sister in a stellar episode of Supergirl.