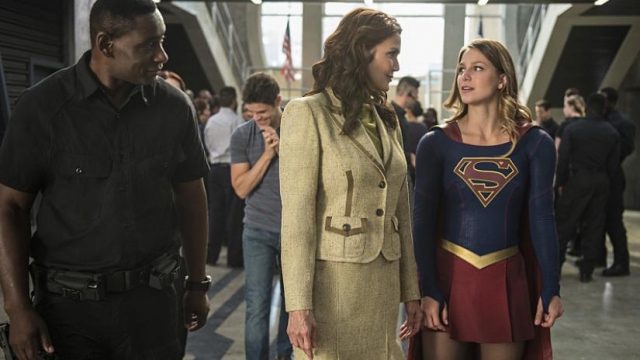 Out of all the CW superhero shows that have sprung up, Supergirl has clearly been at the top of it's game compared to the rest. While Berlanti might just be getting spread a little thin with how big of a presence he has in television right now, Supergirl manages to avoid flaws that both Arrow, The Flash and Legends of Tomorrow share. No, Supergirl is not perfect by any means, but it has strong characters, more reasonable drama and feels more unique than the other shows. In the show's move to The CW, things have started off strongly once again with the inclusion of Superman and set up for what the season will be about. Supergirl always seems like it keeps it's head on straight and never forces things onto the characters or audience but unfortunately last night's episode broke that streak in what was a good, but off episode.
"Welcome to Earth," focuses in on a great topic for the show to analyze; the acceptance and incorporation of aliens into society. At this point, aliens are a pretty frequent thing and it's naive to not incorporate some type of view or reaction that the public will have to everything. Supergirl has really nailed those story types when they revolve fully around Kara, but there has never been a whole lot mentioned about other alien encounters or how the country as a whole deals with it. The episode really hones in on the idea of judging people before you know them, and while a basic plot device, it worked nicely on the show. It was really smart for the writers to focus on Kara going against what she believes in by judging Mon-El because of his home planet and putting her through something so simple like this is nice because while she knows she's not the only alien around, she probably forgets very easily how accepted she is. This episode does a really nice job of expanding on the alien culture in the show, because viewers learn about the alien safe haven bar and just see that there are other, normal aliens around the city.
The way that Supergirl decided to introduce viewers to the bar was great as well, through a new character named Maggie. Floriana Lima was really solid in the role and she held her own with the series regulars. Maggie seems like a smart and strong character who will be a nice addition going forward, especially because her and Alex had clear chemistry and seemed to be teased romantically last night. Even though the character was very strong in the episode, hopefully the writers don't force her and Alex together without a strong story behind it. "Welcome to Earth" accomplished a lot of great things, but the one flaw in the episode came when Alex makes a point that she spent so long hunting aliens with the DEO she lost sight of the idea that there are good aliens out there and not all bad. This just goes against everything her character has been through… she grew up with Kara as a sister and learned to accept and trust her; Hank, her long-time boss is an alien that she has been fine with and accepted. It just felt like that statement was a device purely used to build up Alex's connection with Maggie, so hopefully there are no more forced moments like that going forward.
Including an alien bar into the show is a pretty cool addition because it just adds a neat new atmosphere for the characters to interact in. It's also nice that it's not an alien exclusive bar so characters like Alex and Maggie can be seen in there as well. It seems like it will be a very important spot to Hank going forward because he can be himself for a little bit finally. Martian Manhunter spends all of his time hiding his alien form, so the bar seems like a great place to make him feel more at home for once. In the biggest moment of "Welcome to Earth," Supergirl introduced viewers to the newest alien character; M'gann M'orzz a.k.a Ms. Martian. The character is another great female to include and Supergirl is such a perfect vessel to give Ms. Martian more attention and focus. It will be a great new story for Hank and seems like it will allow viewers to get to know him on an even deeper level going forward because it is probably the most personal thing viewers have seen with his character.
Supergirl really continues to prove that it is a strong show that is dominated by it's female characters. Season two seems to really be dialing in on everyone so far and preparing viewers for an even deeper look into the great characters. This episode really transitioned things into the long-term plots for the show and they all seem solid so far. While "Welcome to Earth" had it's single writing misstep, there is a lot to look forward to going forward. Adding Mon-El and Ms. Martian to the lineup brings a lot of new potential to Supergirl; both are very closely related to two of the show's main characters and represent a deeper connection to character's roots. Supergirl continues to grow on what it established last year looking like a great show and "Welcome to Earth" nails a couple character introductions and a transition to the bigger picture of season two.
Other Thoughts:
The President being an alien was SO predictable…. but I'm interested to see where the plot goes with that.
As someone who really isn't a huge fan of James on the show, I'm liking the new position he has and with the reveal that he will become Guardian, I really hope this season has the character truly find himself.
I'm so pumped to have Ms. Martian on the show, with no Young Justice anymore it's great to see the character get some love.
Hank's line early on about being an alien AND a black man was pretty funny. You would assume when he arrived on Earth and eventually took that body he just assumed Earthlings each accepted the natural races of the planet.
Does anyone else think Mon-El might be Kara's new love interest? Especially because they can relate very closely about their homes…
Supergirl Season 2 Episode 3 Review: "Welcome to Earth"