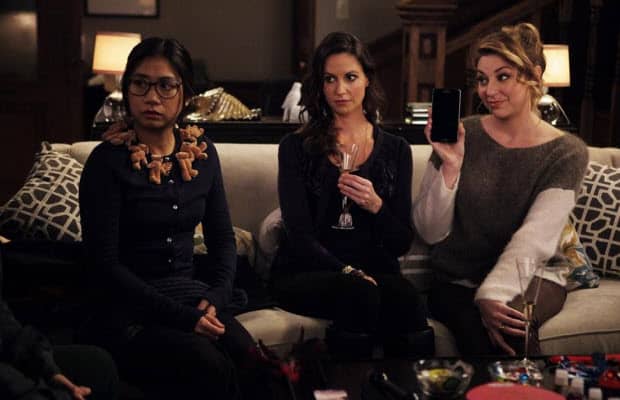 All right Super Fun Night fans, it's finally here. Arguably the most talked about episode of the season, tonight's "Lesbihonest" ep packed a whole lot of punch! The title alone offers a a very telling peek (and a huge spoiler) at what the big moment is, but lesbihonest – that doesn't take away from what we now know: Marika kisses a girl… and SHE LIKES IT! So. Much. Feels.
This episode is a timely Valentine's Day one but not everyone is feeling the love, except for Kimmie. Our girl Kimmie is on Cloud 9 now that she and James are a hot and heavy item. It's their first V-Day together and they want everything to be perfect. At first it is: he sends her flowers and plans a romantic dinner with a primo table at his restaurant. In turn, Kimmie plans for them to go to her place afterwards to surprise him with a "performance." Nervously she turns to her frenemy Kendall, who gives her some sound relationship advice ("Don't do anything stupid, like say 'I love you') and even offers to invite Marika and Helen-Alice to her place so Kimmie can have the apartment for her special night with James. Who are you and what have you done with Kendall?!
While the episode is very Kimmie-centric, Marika takes the spotlight as well, and rightfully so. Apparently her new friend Frankie (Pitch Perfect's HanaMae Lee) invites her to go to a women's bar that night, but the ever-loyal Marika turns it down and keeps it to herself. Instead, she and Helen-Alice, who is dating an overly-allergic Benji, go over to Kendall's for a single ladies soiree. It's an eventful night there to say the least: first, there's an adult entertainment tupperware party, followed by a very eye-opening game of "Never Have I Ever." The latter opened up new territory for the innocent Marika, who found out she's the only one who'd never kissed a girl – heck, even Helen-Alice did it. Later Kendall gets some one-on-one time with Marika, talking her about being true to one's self when Kendall suddenly grabs her face and kisses her. WHOA MAMA! And thus, a new Marika was unleashed. A woman on a mission, she marches to the bar where Frankie is at, finds her, and plants a big wet one on her. Frankie is a bit surprised by the bold gesture, but it's all good – she's into it. Hey, girl!
While Marika's having a V-Day to remember, so is Kimmie – in all the wrong ways. Poor Kimmie's romantic evening goes from bad to worse with every move she makes: from almost being late to dinner because of work (pretty bad) to having Richard cover for her (bad) to spending only a minute with James before his boss plucks him to work and ends up not able to meet up later (worse). Oh, and then there's the matter of accidentally telling James she loved him. Oh Kimmie, what did Kendall just tell you?! You'd think a visit with Richard and him finally realizing he wants to be with her would cheer her up, but that's not the case. Nor did the first time he tried to kiss her, as she shoots him down. But even Kimmie can't fight off Richard's love-struck ways when he succeeds a second time, grabbing and kissing her – and she TOTALLY kisses back! Worst of all, right after his friend kisses his GF, an unknowing James texts Kimmie, "I love you too." Uh-oh.
Other thoughts on the episode:
– I've always been pro-James and anti-Richard in terms of who Kimmie should be with up until now. I still think James and her are super adorbs and are practically the exact replica of each other. But Richard is so OBVIOUSLY hot for Kimmie and it now comes to light that he would do anything for her.
– Speaking of James: not to be nit-picky, but why would you plan a romantic date at your work? Especially if you know your boss is temperamental and gets stressed easily; it's just a bad move.
– "Kimmie, quit trying to solve all your problems with cat puzzles…" Uh, best line ever?
– I know it's wrong, you know it's wrong… but who else swooned when Richard said, "Come here Boubier" and straight up kissed her?! We're STILL pinching ourselves over that one.
– Did anyone else think that Richard looked like Chris Kattan circa A Night at the Roxbury in the photo of him and Kimmie dressed like a chicken? Just me… okay.
[Photo via Nicole Wilder/ABC]