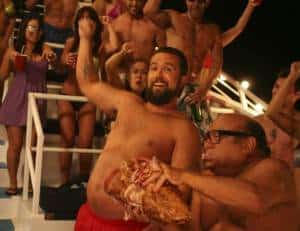 The gang takes a much-needed vacation this week and headed toward the Jersey Shore. Of course nothing went as planned for everyone and, while some found trouble and others had the time of their lives, none of them will ever forget the trip. That being said, I wish I could forget about their vacation. Read on, if you wish, to see exactly why this became a vacation from hell.
The episode started off really well. When Dennis (Glenn Howerton) suggested going to the Jersey Shore, I was a little ecstatic. I mean come on, this could have been an entire episode composed of jokes making fun of the show Jersey Shore. However, there will a few jokes pointed towards the shore and more jokes that either fell flat or were way to over the top. One in particular was the two hobos engaging in sex under the boardwalk. While all of us expected to see something a bit off the wall when Dennis, Dee (Kaitlin Olsen), and Charlie (Charlie Day) took a trip to see what was going on under the bridge, I never expected to see what they saw. It's Always Sunny is known for crossing the line but I think this really went a bit to far. I also have to bring up that this week also included a puke joke scene. Let's hope every episode doesn't have to contain someone barfing for the writers to be satisfied.
The side stories of Charlie and Mac (Rob McElhenney)/Frank (Danny DeVito) were the saving graces of this episode. Charlies story of finally getting a perfect night with The Waitress (Mary Elizabeth Ellis) was a nice touch. I originally thought that Charlie was in some sort of dream state but when he woke on the beach and The Waitress was still there, it was like Charlie finally learned how to be around her. However, It's Always Sunny has to throw in something to change the story for everyone, and in this case, The Waitress was high on drugs during the entire night. Upon finding this out, Charlie reverted back to his old self and tried to win back The Waitress with a piece of glass (which to him was a jewel). In my opinion, this story should have been brought out more during the episode.
Now, the Frank and Mac story was great in the sense that we got everything we could and were not given a bit more that could ruin the story. Seeing the two men float out to see was hilarious, and was made even funnier by the ham floating away like Wilson in Castaway. The two arguing like an old married couple was great and to see their unfortunate day at sea turn into the greatest vacation they ever had, was great, seeing how both men haven't had the greatest few days (Frank's whore dying and Mac gaining 50 lbs). All in all, this side story was exactly how any side story should be done in tv.
Now it's time to see what we have learned from this weeks episode and sadly there wasn't much this week:
Be sure not to get your hair braids stuck on an amusement ride
Green glass is basically the same thing as a jewel
Don't ever go under the boardwalk on the Jersey Shore
And there you have it, episode two is in the bag and this week it felt like the writers were just trying to ride the coat tails of the past episode. Nothing really made an impression, scratch that, nothing made a good impression except for the side stories. Here's hoping the writers can lean away from crazy stories for Dee and Dennis, and give the rest of the gang more story time. C+
So what did all of you think? Agree, disagree or just don't have an opinion? Leave your thoughts in the comment section below and let us know.